Évora, Portugal, with a population of almost 50,000 people, sits on the banks of the Tagus River in southern
Portugal
, only about 87 miles (140 km) from
Lisbon
. It's a drive of less than two hours between the two cities. Évora, with a continuous history of over two thousand years, has been the property of the Celts, the ancient Romans, the Visigoths and the Moors. In the 12th century, King Alfonso I of Portugal took control of the city.
The architectural styles used for buildings over the many centuries, from Romansque to Gothic to Renaissance to Baroque are all evident in the narrow streets, the large squares and the picturesque palaces and churches. The historical city center has over 4,000 buildings in an area only a half square-mile in area. Évora is part of the Most Ancient European Towns Network and is a UNESCO World Heritage Site.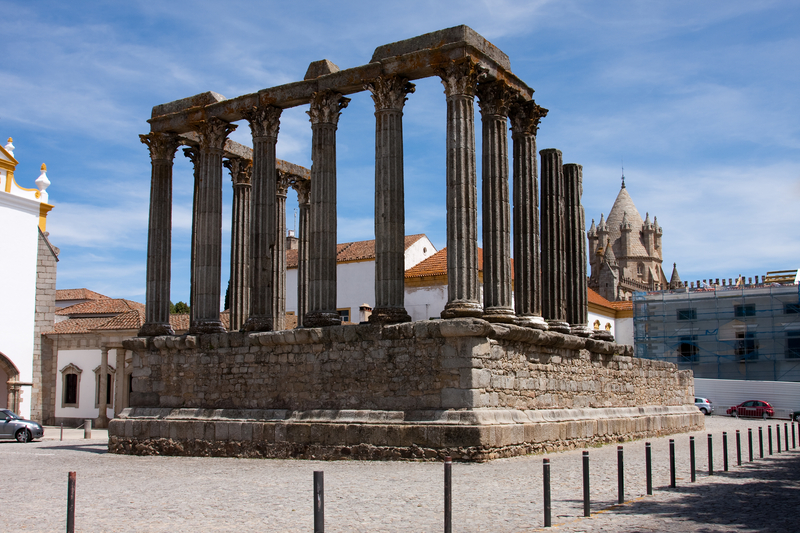 The first place to explore in Évora is the Praça do Geraldo or Giraldo Square. It contains both the Estaus Palace built by King Duarte in the 14th century and the Font Henrique, a Rennaissance-style fountain built in 1570. You'll also find a unique Roman temple which survived only because it was encased within another structure built in the early Middle Ages. Constructed in Corinthian style from local marble between the first and third century, much of the structure still exists, with fourteen surviving columns each of which stand over 25 feet (7.6 meters) tall.
The next historical site is the most famous landmark in the city and stretches out for over nine kilometers. It's the Água de Prata Aqueduct or the Aqueduct of Silver Water, built to supply the inhabitants of the city with water in the middle of the 16th century by King João III. Numerous cafes and shops stand under the arches of the entire length of the aqueduct.
Restaurants are the other attraction of Évora, many of which serve the traditional Alentejo cuisine. Two of the best examples are the Restaurante O Fialho and the Dom Joaquim. Alentejo food is based on the local rural meals of the region, such as roast lamb or seafood soup made with water and olive oil, seasoned with coriander and garlic and enhanced with such items as cod, egg or clams. If you'd rather not indulge in a full dinner, there are many cafes, snack bars and bakeries scattered throughout the city.