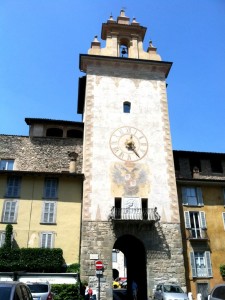 Guest Post By: Margie Miklas
Bergamo is an easy day trip from Milan, taking less than an hour by train. This scenic medieval town is located in the Lombardia region of Italy in the foothills of the Alps.  Like many small towns in Italy, Bergamo has two parts, the lower part or "bassa cittá" and the older historic center up on a hill, the "alta cittá."
As usual the train station is in the lower part of town but there are buses which run frequently and will take you to the upper part of Bergamo for the cost of one euro. The 1A bus can be boarded just outside the train station and there are plenty of young friendly locals who are happy to give you directions.
Once in the Bergamo Alta it is easy to wander around and discover the sights in this historic town. Of course most of the streets are inclined, so this is yet another opportunity for your daily workout, no gym required. This will help lessen any guilt from having that tempting gelato later in the day.
La Rocca is a 14th century fortress high on a hill which offers the most breathtaking panoramic views of the entire area. Surrounding La Rocca is a park which is a welcome respite from the uphill walking. Local residents can be seen sitting in the shade relaxing, having a picnic or reading a book.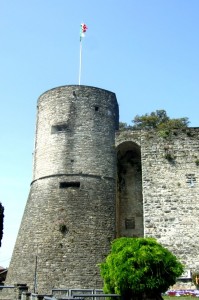 Inside La Rocca is a museum which is open to the public. At one time this former Roman  military camp had been a prison and also a barracks and executions took place in the park which is appropriately named Parco delle Rimembranze (Park of Remembrance).
Piazza Vecchio is the heart of the old town on Upper Bergamo, and in the center of this piazza a fountain which was presented to the city in the 18th century. This piazza is the home of Palazzo Nuovo, the 14th century Palazzo Podestà and the Palazzo della Ragione with its 12th century bell tower, Torre Civica and Torre Campanone. The tower is 174 feet high and you can take an elevator or climb the 230 steps to the top for commanding views of the city and the distant Alps. It is especially beautiful late in the day or at sunset. Every night the bells toll 180 times at 10pm, dating back to the ancient times when the city gates closed at that time, and the bells rang as a warning to its citizens.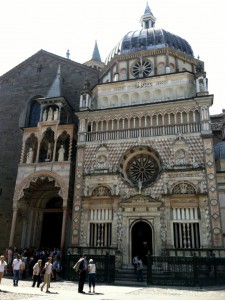 The most famous church is Upper Bergamo is the Basilica di Santa Maria Maggiore in Piazza del Duomo. This 12th century church has a reputation for being one of the most important buildings in this entire region. Stepping inside leaves you with a respect for the medieval art as you take in the tapestries, frescoes, paintings and sculptures. The exterior is equally impressive with sculptures of lions and intricate carvings on columns and exterior walls.
A day trip to Bergamo may not seem like enough but then there is always a reason to return.
Other article From
Guest Post By: Margie Miklas