A highlight of our recent Utah Christmas holidays was the time we went to visit Temple Square in Salt Lake City with some of our children and grandchildren. Each year the trees, buildings and almost every square inch are decorated with thousands of tiny colored lights. It is truly a winter wonder land with the majestic LDS Temple standing out in the midst of them.
We bundled up against the chill of the evening and headed for the trax. The trax are very convenient in Salt Lake City, and travel regularly to and from Temple Square, so you don't have to worry about parking and walking long distances. Each adult held a tiny hand, and as we exited the trax, one of my little grandsons, age four, said he felt like we had gone to another dimension! So cute (where does he get that? I wondered).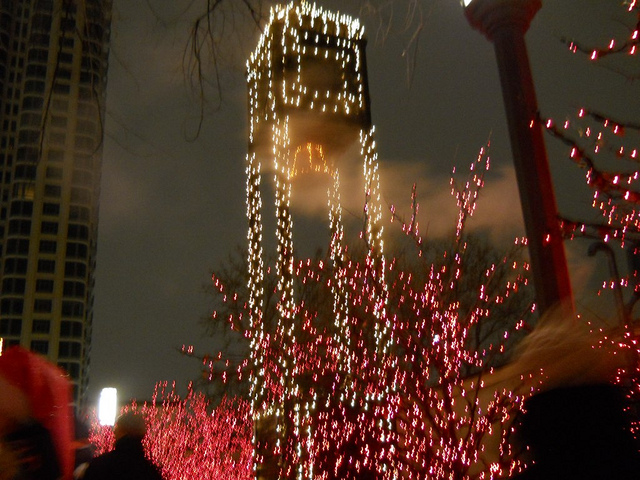 There is no admission fee enter Temple Square, and although the weather is chilly, the glow and warmth of the lights are very welcoming. There are lights in Christmas colors, red, green, and even blues and yellows. They decorate the bell tower, some of the buildings, hedges, bushes, trees and walkways. There are pretty rock fountains and ponds.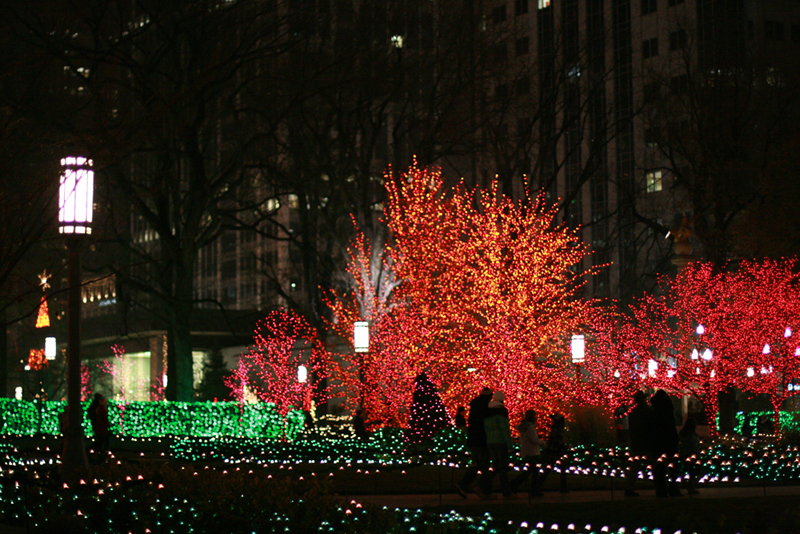 Some of the buildings are over 100 years old, and have been well preserved. Most of them are still used today. The huge Tabernacle has been renovated recently.
The children loved seeing the many different nativity scenes. They would try to find Baby Jesus, Mary and Joseph in each display. There were displays from Asia, South America, Polynesia and many other parts of the world.
My favorite of all is the display of Joseph, Mary and Baby Jesus on the water near the temple. Several glass lighted balls float in the water around this enchanting display, with flood lights focused in just the right places.
Many families come together for family home evening to enjoy the holiday spirit in this lovely scenario. There is a visitor's center that welcomes all to come in, get warm and see the Christus, a large sculpture of Jesus and other wonderful art. There is also the Joseph Smith Memorial Building nearby, where you can get some hot chocolate, and see gloriously decorated Christmas trees in deliciously ornate halls.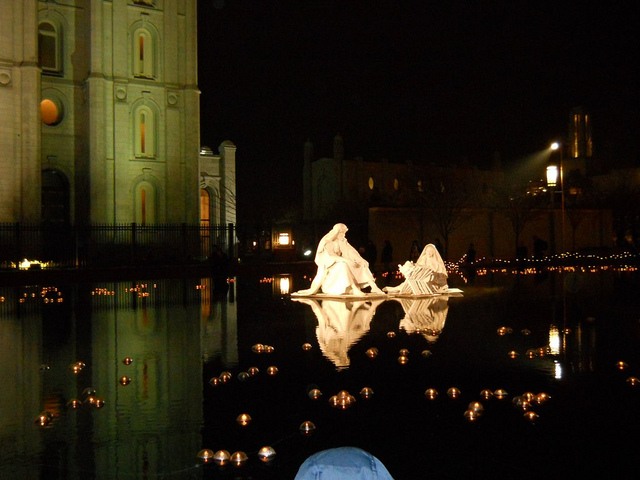 Christmas music plays throughout Temple Square. It is truly a place to get into the Christmas Spirit and reflect on the reason for the season. I'm so glad we were able to spend this splendid time together. Even though our fingers and toes were a bit icy, our hearts were warm. If you are in the area, a visit to the Salt Lake City Temple Square will be an experience you won't forget.
Ruth Elayne Kongaika was raised in the mainland, USA, but has been living in the South Pacific for the past forty years. She enjoys trying to capture the beauty of the Polynesian islands through her photography, painting and writing. She has a blog which shares some of her art and favorite subjects at:
email: kongaikr@byuh.edu