Corniglia is the smallest of the five villages that make up the Cinque Terre, and is the only village that is not situated on the seashore. Having a population of just over 200, Corniglia boasts the highest altitude in the Cinque Terre, sitting 100 meters above seas level, providing stunning panorama views from this vantage point.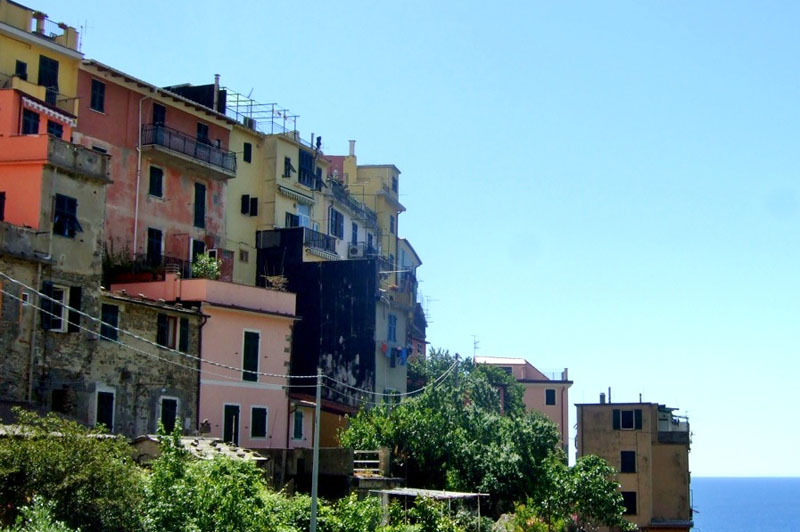 Corniglia is only accessible by walking 382 brick steps from the train stop, or taking a small bus from the same location. The hiking trail above has been closed die to mudslides.
One of the more popular spots to eat or have a drink is Er Posu Café, located at the bus stop on via Fieschi and at the entrance to the town of Corniglia. It is very casual and has great cappuccino and lemon cake. The prices are reasonable, and I noticed it was still open in the afternoon, unlike some other establishments in Italy.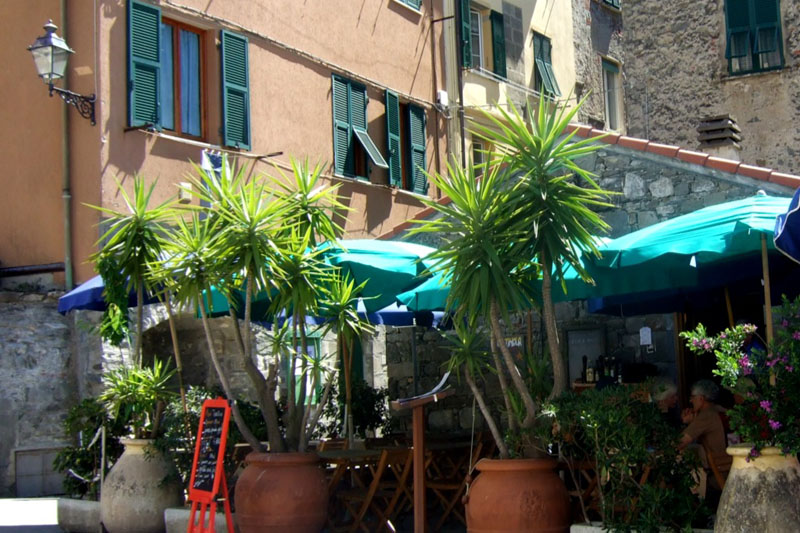 There are no big attractions or museums to see in Corniglia. Its attraction is its laid back atmosphere and quiet picturesque streets with a few shops. I tried to buy something in one of the shops but I needed change and the shop owner didn't have it. It is not like in the U.S. or another larger town where the person might go next door or to the bank. Instead I just couldn't buy the item. That's how it is – simple.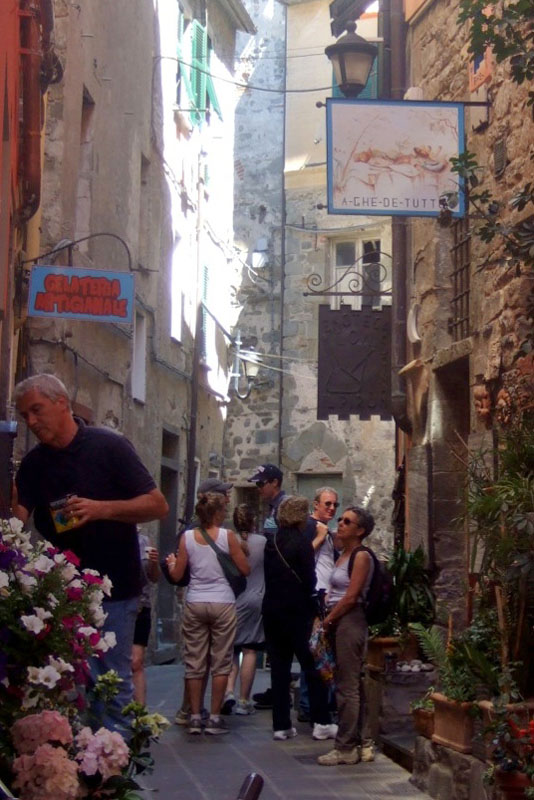 There is a 14th century church here, the Church of San Pietro, which very much resembles the church in Manarola. It has a beautiful rose window above the door, and the window is interestingly made from marble from nearby Carrara. In the center of the window is a sculpture of a deer which is a symbol for Corniglia.
Corniglia is the kind of place where you can sit on a bench and watch people and enjoy it. There is no agenda here and no rush. Even the bus does not necessarily run on time, and it only runs when a train stops at the station, which is not as often as it does in the other towns of the Cinque Terre.
Although Corniglia sits up high, there are two small beaches which are considered to be Corniglia's beaches. Neither is easy to reach and the one which receives the most attention is Guvano Beach because it is a nude beach, mostly frequented by locals. Clothing is optional so if you want to go you can also wear a swimsuit. To reach these beaches requires going through a tunnel and paying a fee to someone who opens a door at the end, all a little bit adventurous, to say the least.
I am glad I came to Corniglia though even if it was just for a short visit. It is just another example of a beautiful spot on Italy's Ligurian coast.
Guest Post By: Margie Miklas
Follow Margie on her blog at margieinitaly.wordpress.com