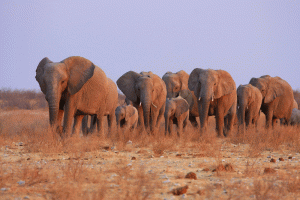 Namibia is one of the more tourist-friendly countries in Africa. Its primary appeal to visitors is its stunning environmental beauty, including sprawling nature preserves and otherworldly desert landscapes. A country of 2.1 million people, Namibia is the second-least densely populated country in the world. This means that much of its landscapes are relatively untouched, especially when one considers how many Namibians live in the country's capital, Windhoek.
Germans were the first Europeans to colonize present-day Namibia, arriving in the late 19th century. South Africa took control of Namibia from Germany after the First World War, and administered it under the discriminatory apartheid system until Namibia gained independence in 1990. Since then, Namibia has been a politically stable country, although it clearly remains poor by "First World" standards.
Given its size, Namibia's climate and natural environment can vary widely. The vast majority of Namibian life takes place in the so-called "Central Plateau," where Windhoek, the country's capital lies. Since most international travelers will likely be flying into Windhoek, one has to take into account that this area of Namibia can be scorching in the summer or frigid during winter nights, depending on the season. Much of the rest of Namibia is semi-arid, or simply full-on desert. In fact, Namibia contains part or all of two major world deserts: the Namib Desert, and the Kalahari.
The official language of Namibia is English, and is widely spoken in the urban and tourist areas of the country. Aside from English, Afrikaans is spoken widely, and the country also recognizes a variety of native languages, including some of the "click" languages that this part of Africa is famous for. Although the European legacy of colonization has obviously had much of an impact on present-day Namibian culture, this country's inhabitants have been successful in preserving many of the elements of their traditional ways of life. In particular, Oshiwambo is the first language of approximately 50% of all Namibians.
Aside from mining, which is the country's largest industry, tourism is the biggest driver of Namibia's economy. Many Hotel, lodges and small boutique inns provide travelers  amble opportunities for accommodation in Namibia.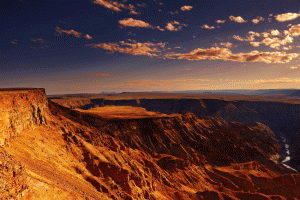 Perhaps Namibia's star attraction is Etosha National Park, where you can easily spend days or weeks meandering around the park looking for African wildlife in its natural habitat, including lions, zebras, and tigers. You can even camp in the park, or stay in one of the many Namibia's hotels or lodges there, and all the campsites there have floodlit waterholes where you can see the park's wildlife from the comfort of your sleeping bag. Fish River Canyon National Park is another star attraction of Namibia's nature scene. The main attraction here is the stunning natural beauty of the gigantic canyon, and the rushing waters of the Fish River will certainly be a sight for sore eyes after trekking in the Kalahari Desert!
While like all of Africa, Namibia is not without its travel challenges, its political stability and natural beauty makes it a great option for travelers to Africa. You are sure to come back with amazing wildlife photos and a new perspective on the continent after a trip to Namibia! For more information on accommodation in Namibia, click here