Guest Post By: Maria Papadopoulou
One of my favorite islands to visit during summer months is Symi, Greece. Accessible by ferries from Piraeus Port in Athens, as well as the Port in Rhodes, Symi is part of the Dodecanese island chain. Because Symi is inhabited by only 3,000 people, it is the ideal place for quiet, quality time alone, as well as romantic getaways for couples. The romantic horse drawn carriage that is offered will certainly be highly appreciated by all couples!
The Knights of Saint John Kastro and the Church of Megali Panagia are magical places that visitors should definitely not miss at the little town of Herio, in Symi.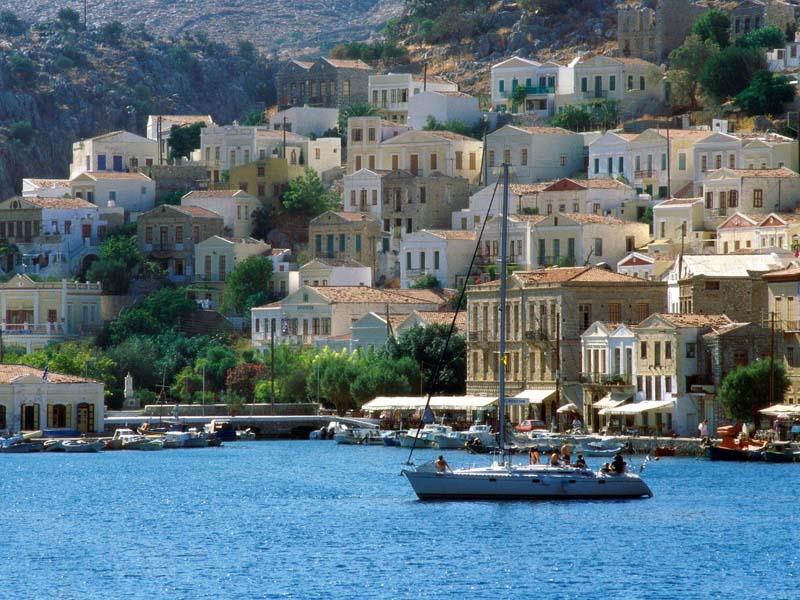 The famous monastery of Moni Tahiarxou Mihail Panommiti, famous for its miracles, was built during the 18h century and provides plenty of iconography of Saint Michael, who is said to have appeared there. It is important to note that tourists are not allowed to take photos in the monastery though, except on special occasions, and even then, without flash. Furthermore, as there are strict clothing rules, tourists should know that T-shirts, mini dresses and mini skirts are now allowed inside the monastery. If shoulders and knees are not covered, tourists will be offered scarfs and jackets to wear before entering.
I love shopping beautiful sea sponges from the tourist shops both for me and for friends. What makes those sea sponges so special is that they are brought up from the sea by local divers as well as the fact that they are incredibly soft! Olive oil products of high quality are also offered in a big variety in the tourist shops.
As the bay offers a magnificent view, it is recommended to enjoy a nice cup of Greek coffee at one of the lovely cafes nearby. Several of the houses in Symi carry an Italian architectural style, which creates a mysterious and noir atmosphere, another thing that couples visiting Symi will definitely enjoy tremendously.
Seafood lovers will especially enjoy the exceptional seafood offered in Symi. One of the specialties is the famous ''Symiaco Garidaki'', little shrimps that are offered as appetizers. Octopus, my personal favorite, is a great choice both as an appetizer and as main course.
One of the cleanest and less crowded beaches in Symi is Nos beach. Because of its location, Nos beach is protected from strong winds and as it offers mild temperatures, it can be visited even during the fall. Pedi beach is recommended for those who want to visit Emborio, Nanou and Marathoundas via motor boats, as well as for those who love water sports.
Loners and couples who want privacy need to search no more. Symi, Greece, is the ideal travel destination for them.
Maria Papadopoulou is a freelance writer at Helium.com as well as a translator and a proofreader.