Guest Post By: Margie Miklas
Epcot Center is my favorite park at Walt Disney World. Comprised of two sections, Future World and World Showcase, Epcot features different countries in its World Showcase, and the Epcot Center, Italy Pavilion is one of my favorites.
What I love so much about it besides the fact that I am in love with Italy is that so much of it authentic. Of course Disney has made that a key component when developing all the countries in Epcot's World Showcase. On approaching the Italy Pavilion I felt like I was back in Venice, one of the most beautiful cities in Italy. The large campanile or bell tower rising 83 feet high is an exact replica of the one in St Mark's square in Venice. This one is compete with a gold leaf angel on the top and the familiar green pointed spire.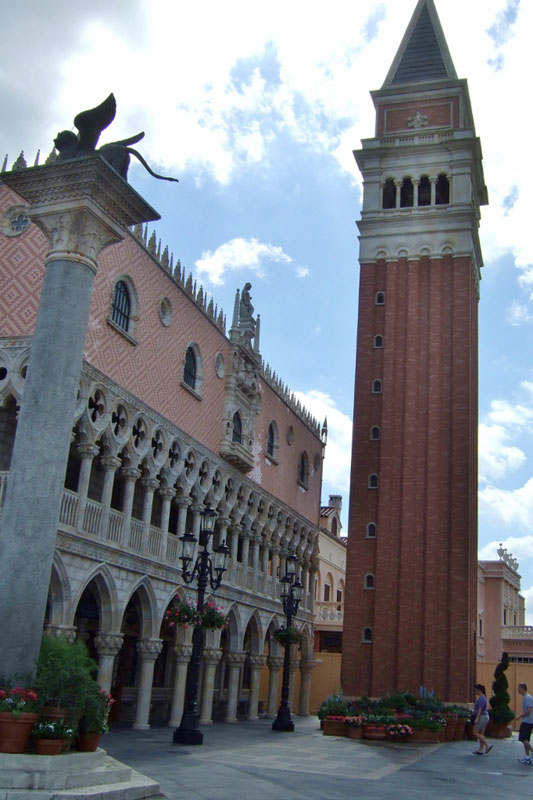 Just across from it is a replica of the celebrated Doge's Palace with its prominent pink stone facade and white columns. A footbridge similar to the 400 that are in Venice separates the Italy Pavilion from the lagoon where a gondola is moored just like they are in Venice. Unfortunately it is just for show and you cannot hire a gondolier to sing for you as you take a ride.
Inside the piazza is Neptune's Fountain and as you walk further there are two Italian restaurants, Tutto Italia Restaurant and adjacent to it is the new Tutto Gusto Wine cellar. Both just opened in May of 2012. Additionally there is another restaurant called Via Napoli. When I was there it was early in the morning so neither were open yet but I could see the waiters dressed ready to go and the chefs in the kitchen preparing the food for the day. Tutto Gusto features over 200 Italian wines, beers, grappas and coffee selections with small plates of food and an intimate environment. Outside there is also a cart where you can purchase wines and sweets.
Italian music can be heard as you stroll the area and sometimes there are street performers as well depending on the time of day.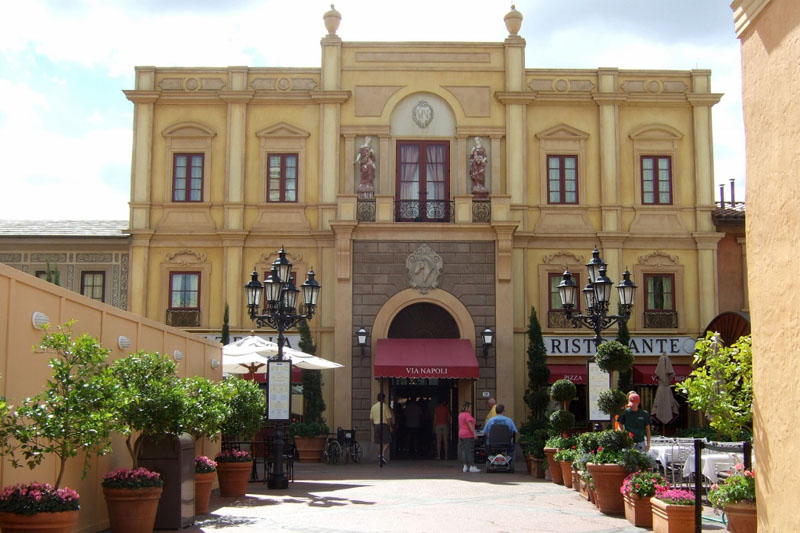 The shops in the Italy Pavilion impressed me because all the items are really from Italy. I made a point to check the Murano glass jewelry and leather bags and all were made in Italy. No items from China were found here. The prices were fairly reasonable I thought, especially compared with prices in Italy where you are paying more because of the euro-dollar conversion.
I spoke with the young man working in the shop and he was from the Puglia region of Italy. Disney hires young people from Italy and contracts with them to work here for a year on a special visa. This young man spoke fairly good English and I enjoyed peaking Italian with him as well.
On your next trip to Disney World, be sure to go to Epcot Center and check out the Italy Pavilion. I live in Florida I know I will be going back soon.
Guest Post By: Margie Miklas
Follow Margie on her blog at margieinitaly.wordpress.com