A jaunt from Paris to Versailles can be the crowning jewel of any European vacation. Full of rich history and culture, and within an hour of travel time from Paris, Versailles is sure to create many pleasant vacation memories.
Versailles is approximately twelve miles west of Paris and holds distinction as the former residence of French royalty and the epicenter of French government. The Palace of Versailles is now a French landmark that attracts millions of tourists each year. It is renowned for breathtaking gardens and hand manicured shrubbery – 250 acres of lush greenery to be exact. One could spend a whole day getting lost in the grandeur of the gardens surrounding Versailles palace. The ornate architecture and elegant decor within the place have continued to inspire designers both inside and outside of France for many centuries.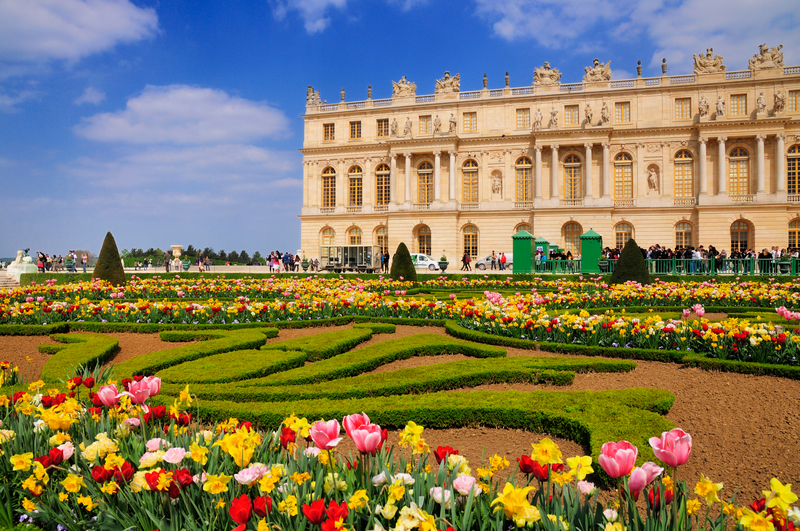 The palace is as dazzling as it sounds and is the largest palace built by the French monarchy
Getting there: Hop on the Paris metro to Pont de Sevres, which is at the end of metro line nine. A quick transfer to bus 171 from there will get you to Versailles in no time. Once in the city, Versailles palace is a short walk and other sites of note are also within walking distance.
Inside the palace: First stop is the hall of mirrors. This is the largest room in the palace and houses seventeen mirror arches facing an additional seventeen windows that overlook the palace park. Words cannot describe the feeling of walking down the hallway knowing that a total of 357 mirrors were used to decorate it. This grand hallway was the setting for many royal gatherings and celebrations.
Next stop is the Queen's Grand Apartment. And the name says it all. This extravagant living space was a source of refuge for the queen when distance was needed between her and the king. It is symmetrical to the King's Grand Apartment. The Queen Marie-Thérèse was known to have occupied this residence on a frequent basis.
The last stop is the Museum of French History. Per the wish of Louis-Philippe, the museum was dedicated to all the glories of France. It is a landmark of French national culture and many souvenirs of the past are embedded in the halls and galleries of the museum.
Once outside of vicinity of the palace, don't forget to stop at the small shops and cafes along the street for some authentic French cuisine, pastries and shopping.
Returning to Paris: The Gare Montparnasse metro stop will return you to the city of lights with a total travel time of about 40 minutes.
Take note that Versailles's Palace is open Tuesday through Sunday from 9:00 a.m. to 5:00 p.m.