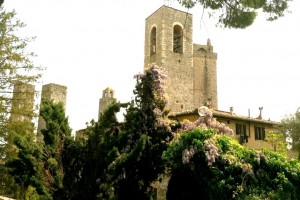 Guest Post By: Margie Miklas
You have probably heard your traveling friends rave about the Italian city of San Gimignano, how it is a preserved medieval village in Tuscany, and how it is a "must-see" location in Italy. Now that I have been there myself I totally agree with all of the above and more.
As one of six UNESCO World Heritage sites in Tuscany, San Gimignano is a walled medieval city high on a hill in central Tuscany, 35 miles southwest of Florence.  Its walls date back to the 13th century and some of its cobblestoned streets and piazzas date back to the ninth century. As I was walking around San Gimignano, exploring its narrow cobblestoned streets, I felt like I had been transported back in time to a place that existed long ago. San Gimignano truly retains the authenticity of its age, yet real people live and work here today.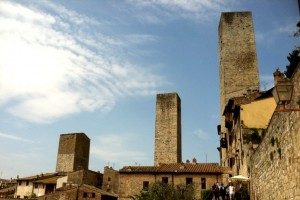 Known as the town of beautiful towers, or "cittá dalle belle torri," San Gimignano dominates the landscape with its remaining 14 medieval towers. The town originally had 72 towers, many of which were built as part of the homes of the wealthy, but wars and invasions have reduced the number to 14 which stand today.
The best way to explore San Gimignano is on foot as it is a very walkable town. Strolling through its streets and arriving in its piazzas will present you with many surprises as well as fantastic photo opportunities.
Piazza del Duomo is the main piazza in San Gimignano and includes the most important buildings as well as the two tallest towers.
Torre Grossa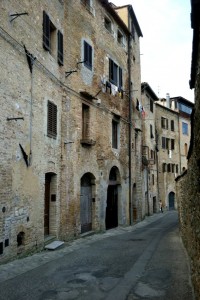 The tallest tower in San Gimignano, Torre Grossa rises 54 meters or 177 feet high and affords awesome views from the top. The steps are quite step as you near the top, but the views of the town and surrounding Tuscan countryside are so worth it. For five euros you can climb to the top as well as gain admission to the Museo Civico art museum below.
Torre Rognosa
The second highest tower, Torre Rognosa, is also in Piazza del Duomo and located as part of Palazzo del Podesta, the original town hall building. The building functions today as the town council of san Gimignano. Torre Rognosa is one of the oldest towers, dating back to 1239, and is 50 meters or 164 feet high.
Duomo or Basilica di Santa Maria Assunta
This 11th century cathedral is not only a religious building but a destination for art lovers, like many of the ancient cathedrals in Italy. Originally a small parish church in 1056, it did not become a basilica until 1932. Inside are many frescoes considered by some to be some of the greatest artistic paintings in Italy.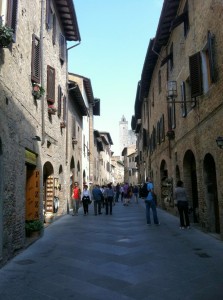 Rocca e Parco Montestaffoli
This is the highest point in San Gimignano and well worth the walk up the hill to reach this peaceful setting. Olive trees and colorful wildflowers set the scene in this hilltop park where you can view Tuscany from another perspective. There are the remains of a 14th century fortress here, hence the name Rocca.
San Gimignano is one of those charming Tuscan hilltop towns not to be missed.
Other articles by
Guest Post By: Margie Miklas
Travel To The Marble Quarries Of Carrara, Italy
Travel Tips for Visiting The Amalfi Coast, Italy
Varenna- Travel Destination on Lake Como, Italy
Travel Tips for Visiting Venice Italy