Guest Post By: Margie Miklas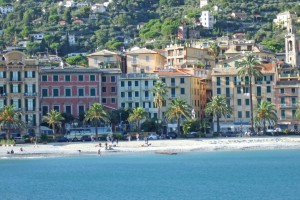 My visit to Santa Margherita came by accident and I feel fortunate to have had the opportunity to actually spend a little time in this beautiful seaside town on the Ligurian coast of Italy. Roughly ten thousand Italians call Santa Margherita their home and they lovingly refer to this port city as "Santa."
Surrounded by hills and the Ligurian Sea, Santa Margherita lays claim to some of the most beautiful views in Italy. Approaching this port from the sea as I did, I felt like I was looking at a postcard. Seeing the marina to the left and the long pebble beach with the colorful houses and buildings along the shore was a magnificent panorama.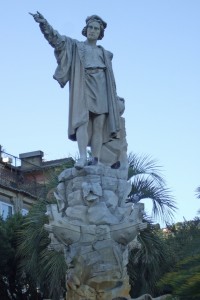 I arrived at Santa Margherita aboard a ferry boat from the nearby resort town of Portofino. The circumstances were such that the changing weather would not allow small ferry boat tenders to operate between Portofino and our cruise ship which was anchored offshore. So I was the beneficiary of an added visit to Santa Margherita while waiting for a bus to arrive to transport myself and the other cruise passengers to the port of Genoa. I have learned that In Italy is it important to be flexible as things can change and that's the way it is. As the Italians say,"che sara sara."
One of the other fascinating things in Santa Margherita is the huge statue of Christopher Columbus on the waterfront near the harbor. Although he was born in Genoa, there are stories attesting to the fact that he lived some of his early years in Santa Margherita. This monument was created by the Italian sculptor Tabacchi in 1892.
Since the 17 th century this seaside resort town became a favorite summer residence for vacationing Italians from Genoa which is less than 15 miles away.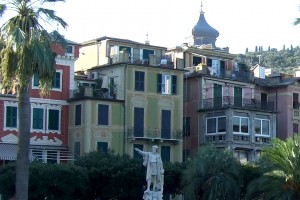 The harbor at Santa Margherita is a popular spot for tourists as there are boats for rent as well as yachts owned by local Italians. Santa Margherita is well known for its prestigious international sailing regattas such as "Coppa Guido Prina" and the "Trofeo Pirelli."
Since I was not in Santa Margherita in the morning, I didn't get to visit the famous fish market on Lungomare Marconi to watch the fishermen haul in their catches of the local red prawns. These are found in many of the regional dishes and some of the best and freshest anywhere.
Italy is full of charming villages along its coast and Santa Margherita ranks as one of the best despite not being the most touristy.
Guest Post By: Margie Miklas