Bulgarian food is one of the more interesting cuisines one will find in Europe. The area is located in the southeast section of Europe. Travelers and visitors to Bulgaria will find there are many similarities with the cuisines of Greece and Turkey. Yet, one will find the Bulgarian dining experience will be completely unique even if you have already visited Greece or Turkey.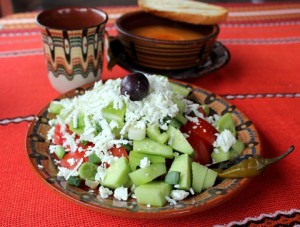 The staples of Bulgarian dining are meals that are rich and usually baked. There are plenty of hearty salads such as the Shopska salad, which is a salad of roasted peppers, tomatoes, cucumbers onions and brine cheese. Perhaps the most famous meal is Moussaka, which is a rich eggplant and meat dish that is famous throughout the entire world.
One of the most common desserts is Baklava, which is a honey and pastry desert filled with nuts. Another thing that is extremely popular in Bulgaria is yogurt. Some people have speculated that the methods of developing and producing yogurt originated with the Bulgarian people several thousand years ago. With that in mind it should come as no surprise that there are many rich and flavorful yogurt dishes that you can enjoy.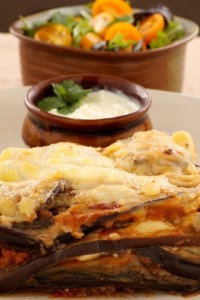 There are many fine restaurants located in Bulgaria. Where you go depends on what you are looking for in your Bulgarian dining experience. There are places to eat in Bulgaria that are rustic and charming as well as more sophisticated restaurants.
A very popular restaurant is Vodenitsata, located in the Vitosha Mountains. This restaurant is famous for its exhilarating views of the local town as well as its beautiful folk art ambiance. The restaurant has a Bulgarian folk theme and the walls are hung with Bulgarian folk art. People also enjoy the lively performance that the restaurant will often have. These performances range from singers to local folk music. The food is all traditional to the region and made with local ingredients.
Another very popular establishment is Restaurant Krim. This is an elegant Bulgarian dining experience. Located in the heart of Sofia this beautiful building is close to local cathedrals and other landmarks. The food is exquisite and the ambiance is very inviting while also maintaining a formal elegance. The food is all made with local ingredients and there are many Greek specialties also included in the menu.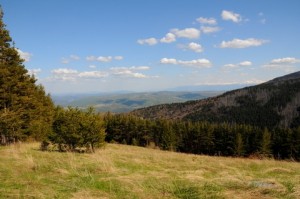 Bulgarian dining is so rich and vast that you will be able to visit several restaurants and never have the same menu. Everyone who visits the country falls in love with the culture and the cuisine. It is also a country of astounding views and many of the restaurants take advantage of the stunning sights. For more information on Bulgaria and dining experiences checkout My Destination Bulgaria.