Guest Post By: Margie Miklas
Epcot Center in Walt Disney World is huge and you really need more than a day to see all of it. It is divided into two sections, the World showcase and Future World. The World Showcase features pavilions from different countries and on a recent day trip there I enjoyed the France Pavilion. As with all the country pavilions, Disney makes sure that everything is very authentic in representing the country and France is no exception.
The imposing Eiffel Tower makes you think you might be in Paris and Disney used the original blueprints to make a structure to one tenth the size. It is impressive to say the least. As I approached the entrance to France I was amused with a live show of two mimes and spent about twenty minutes being entertained by them. Not only were they mimes but they were comedians as well as gymnasts and acrobats. Billed as Serveur Amusant, these two were hilarious and fun for all ages.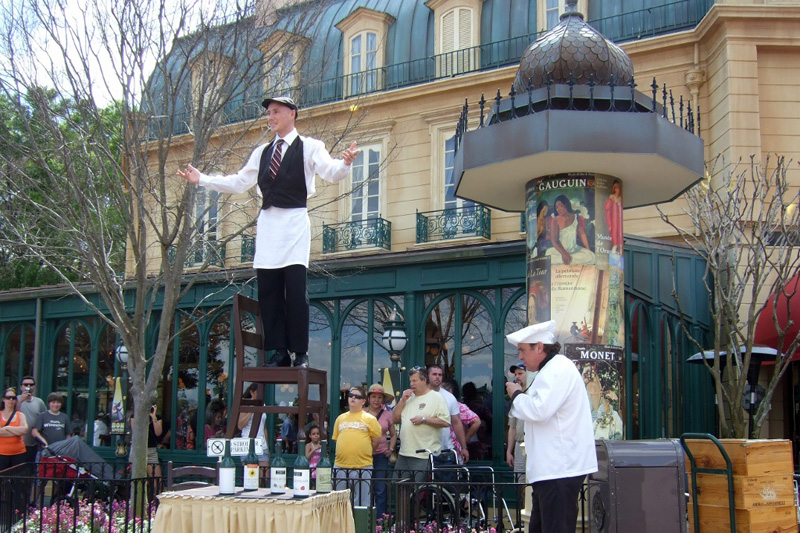 One of my favorite features here is inside a theater, where an eighteen minute film, Impressions de France, is presented on five screens in 220 degrees resembling 360 Circle-Vision. With aerial views of scenes from all over this beautiful country I felt as though I were flying over the cliffs of Normandy and castles in the Dordogne Valley. The film is a beautiful travelogue of the best places in France. Although it is the same film since Epcot opened 30 years ago I enjoyed it immensely, especially since I have recently been to France.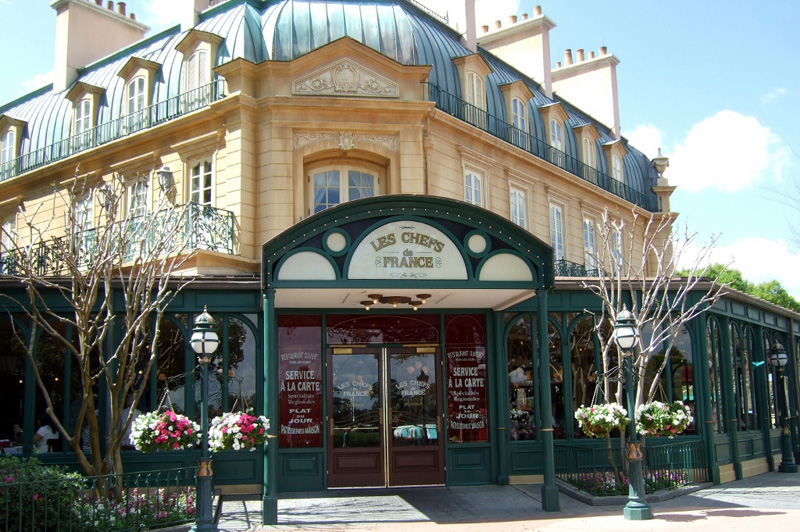 The young people working here at the France Pavilion are friendly and speak fluent French naturally. I couldn't help feel as though I were in France while I was here, although the ice in the drinks quickly gives it away that this is America and not Europe.
Of course the outdoor streets lead to shops with authentic French wines, soaps, and naturally pastries and breads. The lines in the boulangerie and patisserie are never short but worth the wait. I couldn't leave there without sampling a croissant! At the Plume et Palette French perfumes with names like Givenchy, House of Guerlain, and Chanel create pleasant scents for those strolling inside.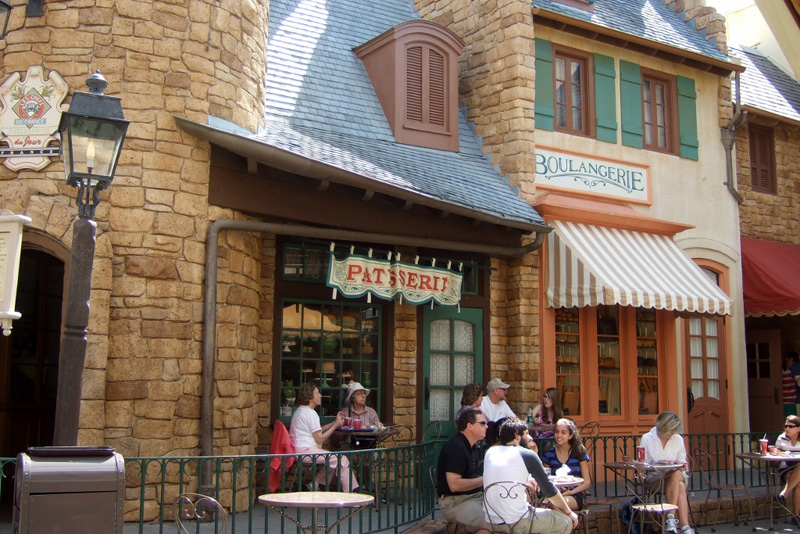 The France Pavilion just opened a new restaurant, Monsieur Paul which is upscale but a little less formal than the former Bistro de Paris, which it replaces. Les Chefs de France, a family-friendly restaurant is patterned after a Parisian brasserie, and has been here since the beginning. The bakery is expanding and will soon be opening in its new form, Boulangerie Patisserie Les Halles, in January 2013. The renovation includes new ovens and an additional 90 seats were added to accommodate the demand for these delicious sweet treats.
Don't miss the France Pavilion on your next visit to Epcot Center at Walt Disney World.
Guest Post By: Margie Miklas
Follow Margie on her blog at margieinitaly.wordpress.com