Guest Post By: Margie Miklas
Milan has a wonderful shopping arcade just across the piazza from its famous Duomo. This five-story glass-ceilinged building is the Galleria Vittorio Emanuele II and a must-see for anyone traveling to Milan.
This arcade has the distinction of being the oldest shopping mall on the world, and is named after one of Italy's most famous kings, King Victor Emanuele II. In fact he actually laid the first stone of this galleria in 1865. The arcade was built to connect the large Piazza del Duomo with Piazza della Scala where the opera house, La Scala is located.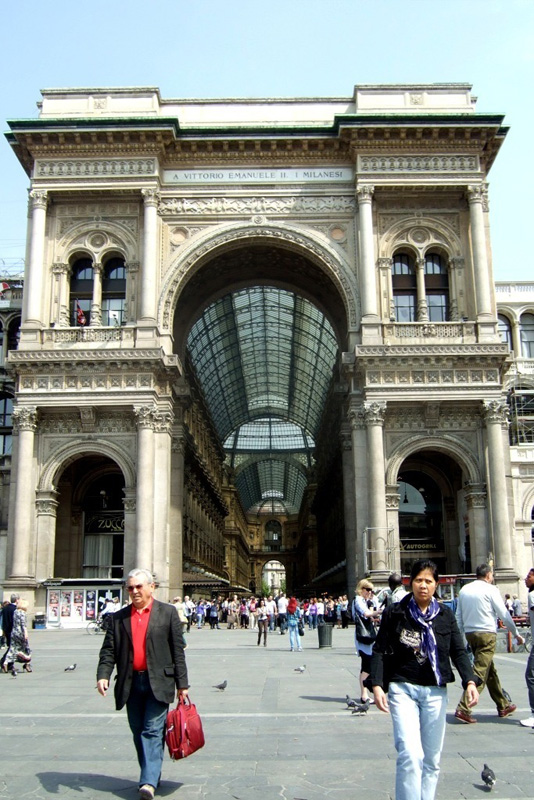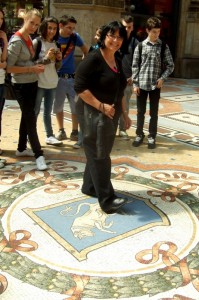 Two years later in 1867 the galleria opened but was not completed for another ten years. This beautiful example of architecture is one of Milan's most popular meeting spots. Its facade facing Piazza del Duomo is framed with a triumphal arch. The interior is shaped like a Latin cross with one walkway 643 feet long and the other 346 feet across. Both walkways are covered with impressive glass and iron arched ceilings which meet at an octagonal center point. This central dome 154 feet high and 118 feet wide and it truly is beautiful.
On the floor in the center of the galleria is a mosaic bull, and tradition maintains that anyone who steps on the bull's genitals, and twirls around three times, will have good fortune. My Italian friend Angela who accompanied me the first time I visited this galleria assures me that this is true, and insisted that I participate in the ritual, as she was ready with her camera. Naturally I had to do it while bystanders looked on, waiting their turn to do the same. The area is question was so worn from people performing this ritual that there was a hole in the floor. Periodically this has to be renovated with new mosaics.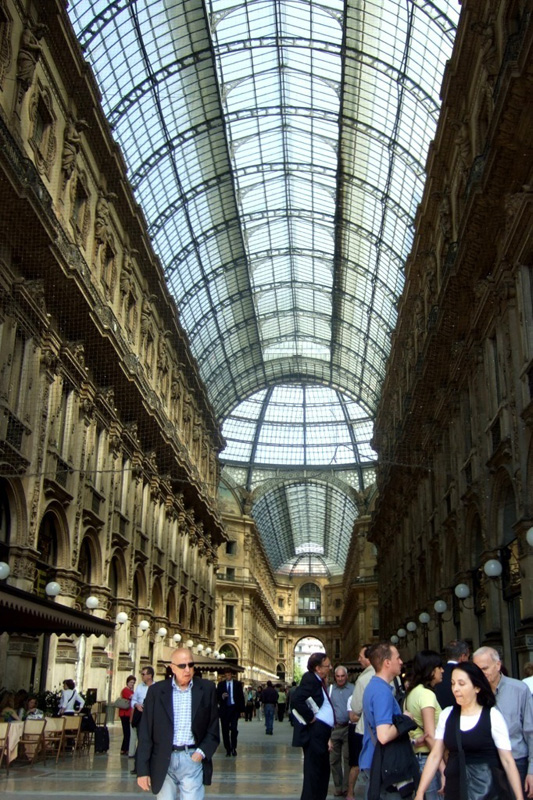 Aside from the spectacular architecture, the galleria features some of Milan's more upscale shops and restaurants. To name a few that grace these halls are Prada, Dolce and Gabbana, Gucci, Louis Vuitton, Bernasconi, and Rizzoli Bookstore. Until recently McDonald's was also inside the galleria, which may seem unusual, but it had been there for twenty years. Their lease was not renewed this year and McDonald's no longer is inside Milan's Galleria Vittorio Emanuele II.
Some of the famous restaurants and cafès in the galleria are the Savini Restaurant, Biffi Caffè, and Zucca's Bar. You may pay ten euros for a cup of cappuccino but you are in Milan's Galleria after all. Enjoy the ambience and splurge.
Guest Post By: Margie Miklas
Follow Margie on her blog at margieinitaly.wordpress.com