Guest Post: Ruth Elayne Kongaika
I never knew the Garden of Eden was in Maui, Hawaii, but sure enough, it is. I even found myself looking around for Adam and Eve as I sauntered through the flowering trees, bamboo forests and exotic anthuriums of the tropical gardens.
The botanical garden known as the Garden of Eden is located in Haiku on the Road to Hana. Created by Alan Bradbury, a certified arborist and landscape designer in 1991, the garden was opened in 1996. It has been recognized by the state of Hawaii for excellent conservation practices, development techniques and proper land use.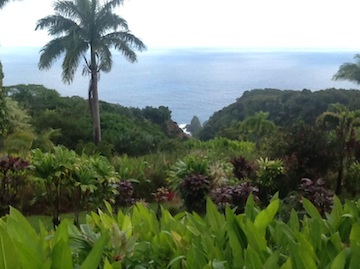 Our walk through the Garden of Eden was educating, relaxing and breathtaking. I even saw a flowering Jade Vine, with shades of blue rarely seen in nature. It is usually found in the Philippines, and I was totally enthralled by this species. The vines wind around each other and create natural art. Signs identify many of the trees and plants and come from around the world.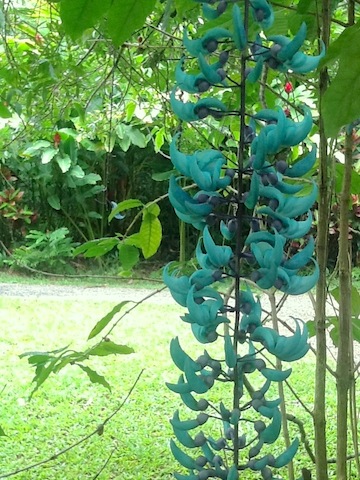 There are a host of ti plants in the garden. These plants are utilized by Hawaiians for a variety of reasons. The roots can be eaten or used for a drink. The leaves can be used to cover an imu (underground oven), wrap laulau (food cooked in underground oven), catch fish by tying them to fishing nets to scare the fish inside, or used as sandals to protect the feet or as a protection from the rain. Ti leaves are used as hula skirts and are believed to keep evil spirits away from the home.
Trails are covered with gravel for safety throughout the garden. A map is available so you experience all there is to see over the 26 acres of enchanting pathways and not get lost. It is quite humid in the area, so it is best to wear good walking shoes that have a good grip. The average rainfall in the area is 150 inches per year.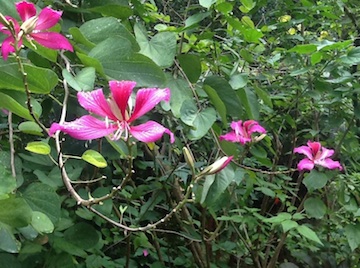 Areas available to see include a tree farm, banana patch, enchanted forest, bamboo alley, anthurium garden, duck pond, bird feeding area, valley overlook as well as a waterfall overlook. You can see the Puohokamoa Falls from the ridge line on the Hana side of the gardens. A 100 year old mango tree is located near the center of the gardens. My favorite were the bamboo gardens. I had no idea there were so many different kinds of bamboo. I also loved the Hong Kong Orchid Tree.
Ruth Elayne Kongaika was raised in the mainland, USA, but has been living in the South Pacific for the past forty years. She enjoys trying to capture the beauty of the islands through her photography, painting and writing. She has a blog which shares some of her art and favorite subjects at:
email: kongaikr@byuh.edu