Guest Post By: Margie Miklas
Sorrento is a lovely city on the Amalfi Coast and a great place to base yourself for day trips to Pompeii, Capri, Positano or other places along the beautiful Amalfi Coast.­­­ The first time I went to Italy I spent three days there and it was perfect. Aside from wandering through Sorrento's streets and enjoying the busy piazzas, there are two reasons I love Sorrento, limoncello and the craft known as intarsia.
Limoncello
Specific to Sorrento and the surrounding area, a refreshing alcoholic drink called limoncello (pronounced lee-mohn-CHEH-loh) is produced here from locally grown Sorrento lemons. Limoncello shops abound in Sorrento and you can also buy bottles of it almost every gift shop, tabacchi and groceria here. Its strong lemony sour taste is refreshing on a hot afternoon.
Limoncello is a liqueur which is best served chilled. It is frequently served as a palate cleanser between meal courses and also as an after dinner alcoholic beverage. I even know some Italofiles who have learned the recipe and now make it at home. Its ingredients consist of lemons, vodka, sugar and water, and of course the right amount of lemon zest. Every restaurant in Sorrento and every Sorrento family has its own recipe for this favorite drink.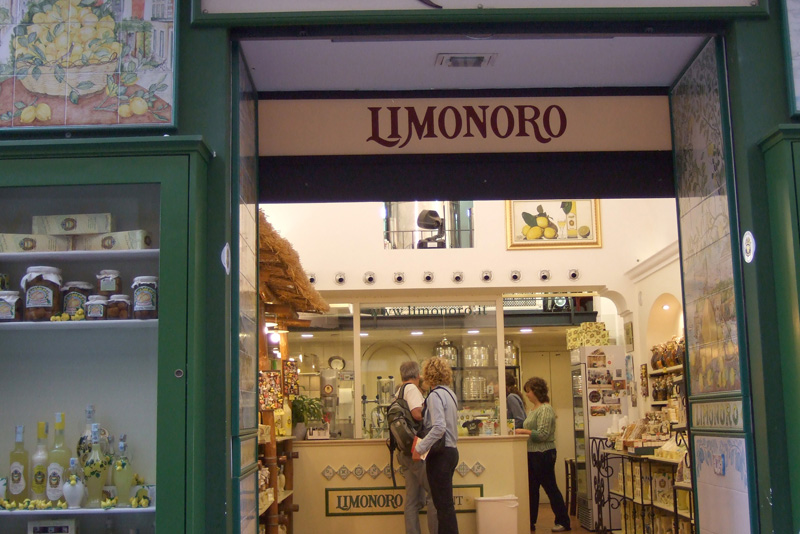 I enjoyed tasting the limoncello while I was in Italy and naturally brought some home with me. It is a very popular liqueur throughout Italy, not just the Amalfi coast. On several different occasions Italians offered me some limoncello in their homes at various times of the day. It is so popular in Italy it is almost like stopping in to visit someone in America, and they automatically offer you a Coke.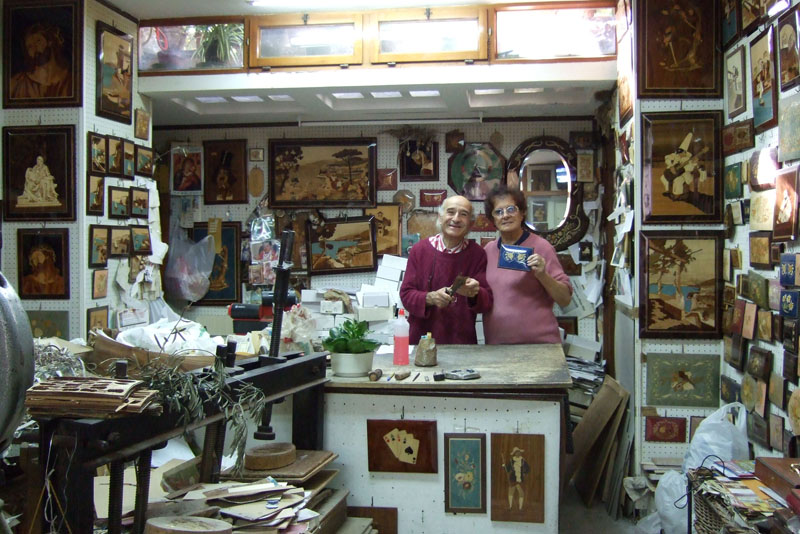 Intarsia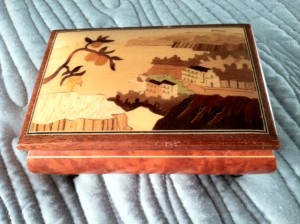 What I really enjoy in Sorrento is the inlaid wood or intarsia. Skilled artisans have learned this craft from previous generations, and they create beautiful jewelry boxes, music boxes, statues and even furniture.
I was lucky enough to be able to observe first hand some of these artisans at work in their small shops. Each shop is filled with templates made from different types of wood that come from trees in the surrounding area. Olive wood was one of the most popular varieties here.
The music boxes were very reasonable priced and I was able to choose which music I liked to go inside the box mechanism. Naturally one of the favorites is the popular Italian song, "Take me back to Sorrento."
I am always ready to return to Sorrento and the Amalfi coast. Time for some limoncello!
Guest Post By: Margie Miklas
Follow Margie on her blog at margieinitaly.wordpress.com