Anyone visiting Cape Town, South Africa, should consider a day trip to Kirstenbosch National Botanical Gardens. Located just a few kilometers south of the old city center of Cape Town, the Kirstenbosch Gardens are acclaimed as one of the great botanic gardens in the world. The grandeur of the setting alone, on the eastern slopes of Cape Town's Table Mountain, makes these gardens unmatched for visual drama.
Kirstenbosch Gardens were established in 1913 to conserve and display the richly diverse flora of region, and was the first botanic garden exclusively devoted for this purpose. With over 7,000 species under cultivation and over 22,000 indigenous species naturally preserved, the gardens display an immense variety of the flora of the area, as well as rare and threatened examples from all the diverse regions throughout southern Africa.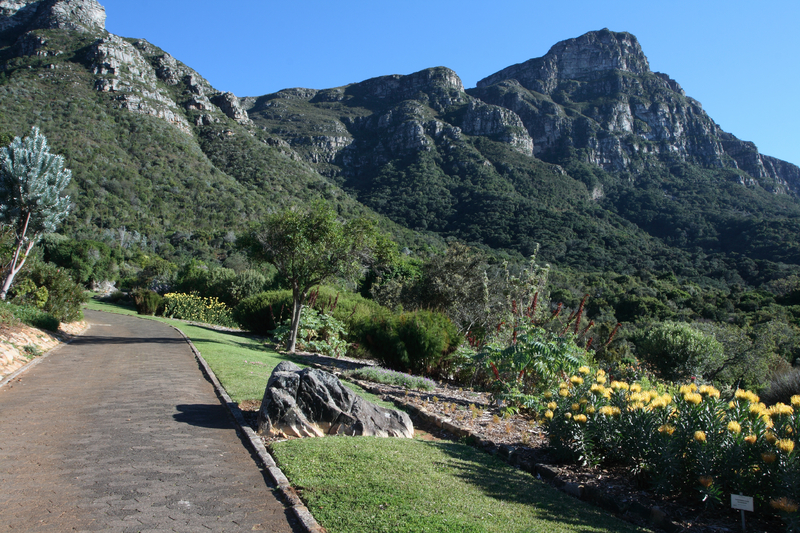 The beautiful botanical gardens cover 36 hectares out of the 528 hectares of the grounds. Most of the estate is mountainside nature preserve supporting natural forest and fynbos, along with a variety of native animals and birds. Kirstenbosch lies in the middle of the Cape Floral Kingdom, also known as the Cape Floristic Region, which in 2004 was declared a UNESCO World Heritage Site.
The gardens are a celebration for the eyes, showcasing the diverse variety of South African plants. Fynbos and Proteas, Cycads and many more are intermingled across rolling lawns, with streams and ponds and meandering yet well-planned paved pathways for easy walking. There are plaques and signs placed along the way to provide information about the various trees and plants on display.
There are two restaurants on the grounds: The Botanical Café and the Silver Tree Restaurant, and picnic luncheons can be arranged. There is a free daily walking tour everyday at 10:00 a.m., and golf cart tours every hour for R45. On Sundays from November through April, sunset musical concerts are held on the grounds. Prices vary. The entrance fees are R35 for adults, R20 for students and R10 for children.
The Gardens are 13 kilometers from Cape Town city center, and are open to the public 365 days a year from 8:00 a.m. to 7:00 p.m. September through March, and from 8:00 a.m. to 6:00 p.m. April through August.
If you are visiting Cape Town, be sure to set aside at least part of a day to enjoy the Kirstenbosch Botanical Gardens, but once there you will undoubtedly want to make a whole day of it.