If you have ever been to Geneva you have undoubtedly see its famous landmark, the Jet d'Eau Fountain. One of the largest fountains in the world and the largest in Europe, the Jet d'Eau is even visible from the air at over 30,000 feet.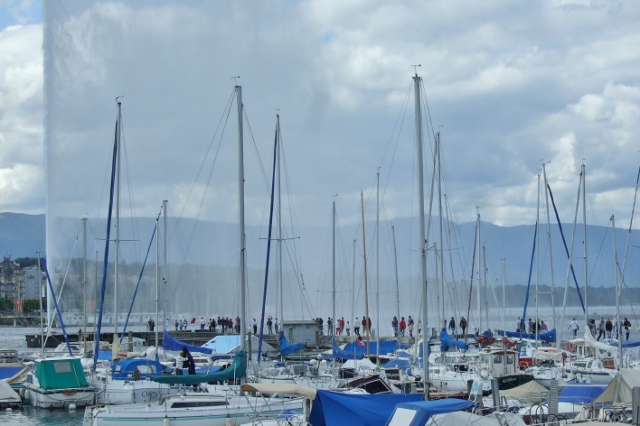 Fountain Facts
Jet d'Eau is situated on Lake Geneva where it empties into the Rhone River. Its spray reaches a height of 459 feet, pumping 132 gallons of water per second. It is operated by two 500 kW pumps at 2400 volts and water leaves the nozzle at 124 mph.
The fountain operates year round except during very strong winds or when the temperature is below 2 degrees Celsius, or 35.6 degrees Fahrenheit. The fountain also closes down for three weeks in November for maintenance
History of the Fountain
Originally installed in 1886 at a location downstream the fountain was a safety valve for a hydraulic plant and was much smaller, with a height of less than 100 feet. Five years later the fountain was relocated to its current location and at this time the height of the fountain had increased to an altitude of almost 300 feet. Its value as a tourist attraction was recognized since large crowds started to visit this spot. The present fountain was installed in 1951 and is one of Geneva's most recognized landmarks.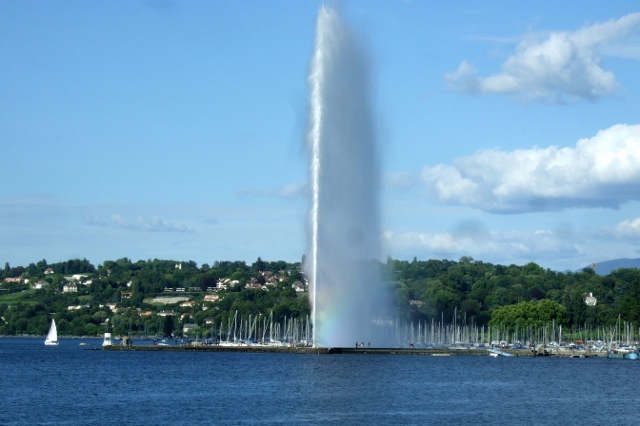 Places to View Jet d'Eau
When I was in Geneva and first saw the Jet d'Eau Fountain I was very impressed and as I walked all around the huge lake I was amazed that I could still see this fountain from a distance. Close up I could see visitors who were not content to see it from the lakeside but rather walked out onto a jetty that took then very close to the fountain. Obviously depending on the shifting winds if you choose to see the fountain from this perspective plan on getting wet!
Other options are the various companies offering cruises on the lake. There are small yellow ferries which cross Lake Geneva and these are also great for getting close views of Jet d'Eau for a reasonable fee.
In the evenings the fountain is illuminated and I have only seen photos of this, not having been there at night but I would love to see it first- hand sometime. Jet d'Eau is a beautiful fountain that has become the symbol of Geneva, so if you go you won't want to miss it.
Guest Post By: Margie Miklas
Follow Margie on her blog at margieinitaly.wordpress.com