Guest Post By: Margie Miklas
Siena is a great place in Tuscany to use as a home base for making day trips to other locations, such as Florence, the Chianti wine country, and Pisa. I spent ten days in Siena and was never at a loss for something to do. Siena itself has grand landmarks and also some lesser known places to go and things to do. Here are a few suggestions to consider.
Piazza del Campo
Everyone knows about the Campo, the second largest piazza in Italy, the place where the famous Palio horse races take place twice during the summer. This is by far the most popular meeting spot in Siena and a very cool place to people watch. The sloped piazza makes it perfect to lie down or sit in groups and have picnics, talk, write, and enjoy life in Italy.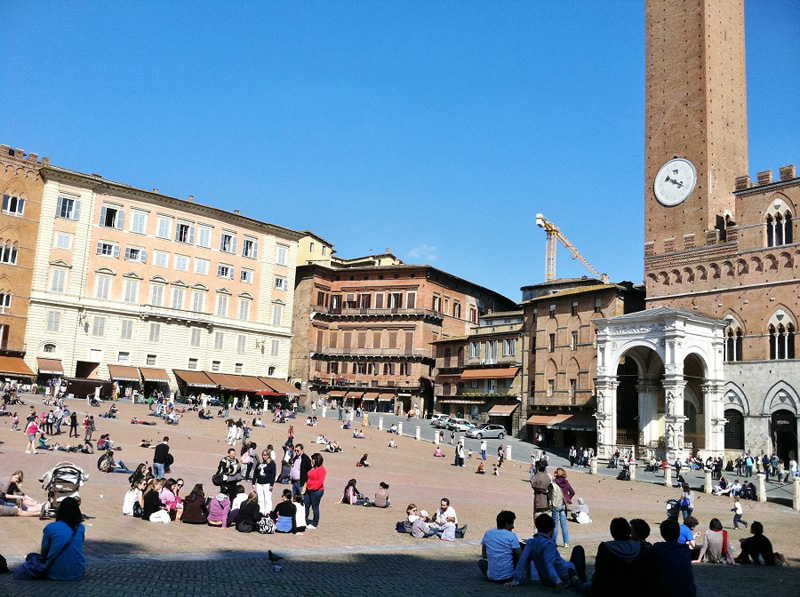 Restaurants, cafes, pizza shops, and gelaterie are all around, so it is a perfect place to spend as much time as you like without fear of needing to find a place to eat or drink. The fourteenth century tower, Torre del Mangia, is part of the Palazzo Pubblico or Town Hall, and at 288 feet tall is one of Siena's tallest landmarks. Although this is one tower I did not climb, you can climb to the top via a narrow winding staircase and have the most beautiful views of the Campo below and all of Siena.
Take in a soccer game
On a whim I decided to attend a soccer game one evening and it was a thrilling experience. Siena recently moved up to the Serie A Soccer League but they still are playing in their old stadium which holds about 15,000 people. A new stadium is under construction at the southern end of the city.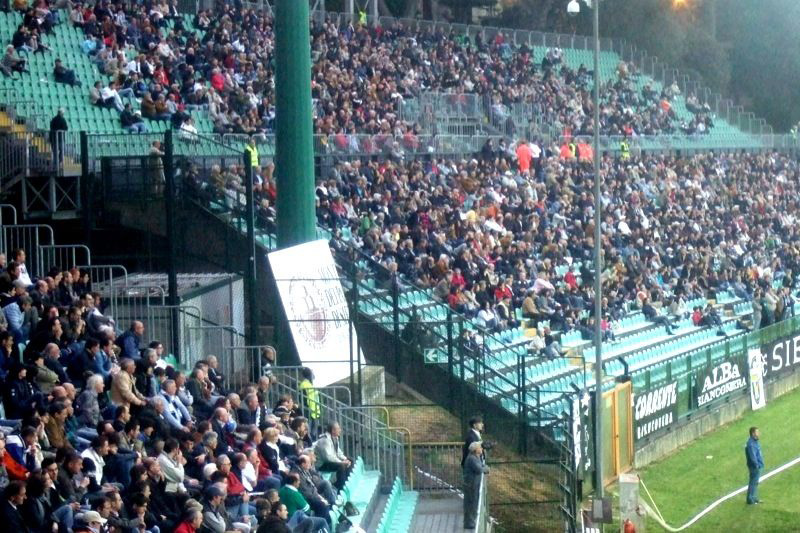 Soccer fans in Siena are passionate and they love to make deafening noises on the aluminum risers as they stomp their feet with the enthusiasm only an Italian can understand. When I attended one of these games just before the team was promoted to the more prominent Serie A, I loved the passion I experienced firsthand in the stands with the local fans.
Make a stop at Consorzio Agrario di Siena
On via Pianigiani you will find a wonderful food store called Consorzio Agrario di Siena and I highly recommend spending some time inside. Here you can taste some locally produced wine, and buy the freshest prosciutto and salami. One of the largest assortments of fresh locally produced cheese takes up a case at least twenty feet wide, and with some freshly baked bread and a piece of fruit, you are set for your own picnic lunch at the Campo or on a park bench. At Consorzio Agrario you will find locally produced olive oils, vinos, pastas, and fresh fruits and vegetables. This is definitely a place not to miss.
Visit the Bottini
It's a safe bet that most tourists never heard of the Bottini, and in fact I hadn't either. The Bottini is an elaborate underground water system in Siena, and there are guided tours available here. An organization named "La Diana" will take small groups of up to eight people through this series of mazes underground. Excavation of these underground waterways began in the year 393 and not completed until sometime during the thirteenth to the fifteenth centuries. The Bottini run below the surface of Siena for a total of fifteen miles. I have not visited these but it is not recommended for anyone with claustrophobia or for children under the age of eight, as there are very narrow passageways in some spots. Proper footwear and even boots are also advised. This is not your typical Italian tourist excursion, but more for someone interested in doing something off the beaten path. Enjoy!
Guest Post By: Margie Miklas
Follow Margie on her blog at margieinitaly.wordpress.com