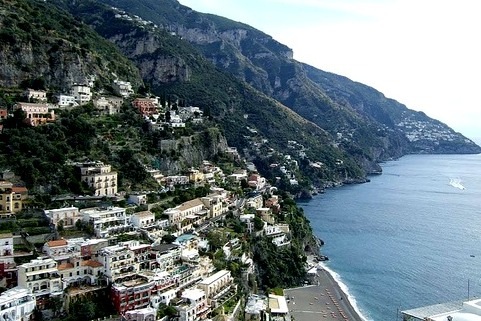 Guest Post By: Margie Miklas
Positano has to be one of my favorite places on the Amalfi Coast and I would enjoy returning there over and over again. There really is no other place as unique as this vertically built town in one of the most beautiful places of the world. Positano has the views, the shopping, the food and the beach. What more could I want in Italy?
Positano is a walking town and only small shuttle buses can navigate the streets here as they are so steep and have endless turns. To really explore Positano the experience begins at the top where the buses must drop everyone off and the rest of the way is on foot. The views from above the town looking down onto la spiaggia or the beach are awesome, especially on a sunny day. As a photographer I was in my glory here, shooting every angle possible.
On the walk down and through the town that was featured in the film Under the Tuscan Sun, I notice that the many of the hotels in this resort city are situated on these hills, and I can't help but think that if you stay here, you had better be prepared for a lot of walking. The views though are totally worth it.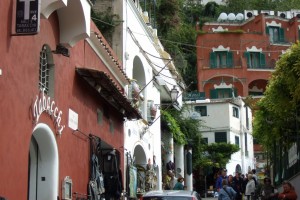 Positano is a shopper's paradise as there are many small boutique type shops and ceramics, clothing and artwork are the main attractions here. Since Positano is a resort, you can expect the prices to be higher than in Sorrento but I still found a print here that I thought was reasonable and brought it home with me.
Of course the food is incredible and both times I was here I was not disappointed. Lunch at the beachfront restaurant Buco di Bacco was outside as the breeze was blowing and the ocean waves were gently rolling. Other restaurants along the winding road down gave me the opportunity to have a cappuccino and dolci and the cannoli were delicious. Are you hungry yet?
Positano's beach is named Spiaggia Grande and like most beaches on the Amalfi Coast, it is not sandy but consists of small stones. Nevertheless it is a beach and the views are stunning. Boats are docked here and sometimes locals are painting or fishermen are mending their nets. Positano is a very impressive and relaxing place to enjoy the natural beauty on the Amalfi Coast and is a "must-see" destination.
Guest Post By: Margie Miklas