Capri is one of the most beautiful islands in the world and its natural beauty of rock and panorama views are the primary reason. The two towns of Capri and Anacapri make up this beautiful island, and each is town is beautiful in and of itself. Both have views that are amazing and yet the very best vistas on Capri are from the highest point on the island, Monte Solaro.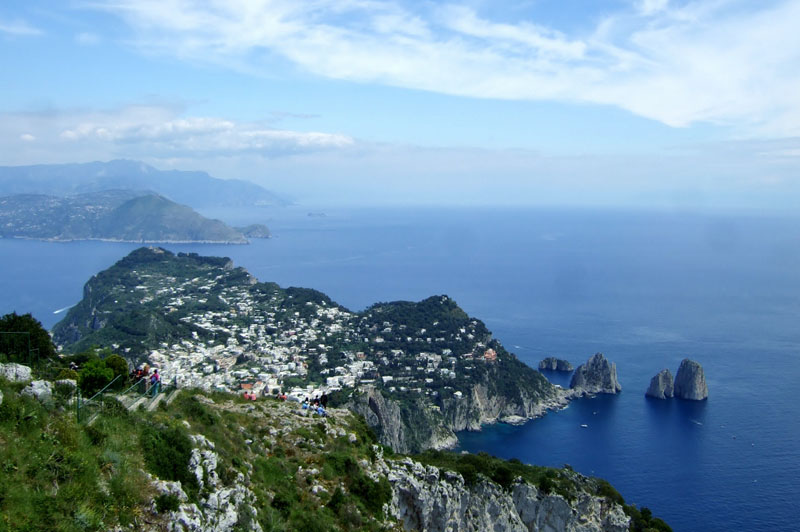 At 1932 feet above sea level, reached either by walking or by taking the more convenient chairlift, Monte Solaro features stunning 360 degree panorama views of Capri and the Bay of Naples.
Known also as the Monte Solaro Seggiovia, the Monte Solaro chairlift station is located near Piazza Vittorio on via Caposcuro in Anacapri, near the center of town. For the modest price of ten euros roundtrip, I had the thrill of my vacation during the peaceful quiet 12 minute ascent to the peak, and afterwards the 12 minute descent back to Anacapri.
The views along the way are almost indescribable and the tranquility I felt was like none other. Although this two kilometer diagonal ride rises to over a third of a mile from sea level, the ground below is never that far away, so my original fear was washed away immediately.
There are 156 seats capable of holding one person each, with a single non-locking metal rod which fits across once you are seated. It is similar to a ski lift except that it is only one person to a seat.
The Monte Solaro chairlift was originally built by engineer Francesco Uliscia in 1952 and later modernized in 1998.
At the peak, there are multiple layers of terraces where I was able to wander around at my leisure and soak in the view, take photos to my heart's content and enjoy a snack before the return trip down. It is nice not to be rushed since this is nature at its very best and why not enjoy it to its fullest?
The snack Bar at the peak is called "La Canzone del Cielo" and was originally built in the 1950's and had a swimming pool and a solarium, as well as a restaurant and bar. Today only the bar remains with an outdoor seating area to enjoy a glass of wine, some gelato or a panini. Conveniently there are also restrooms located here.
This was by far the best part of visiting Capri for me and although there are many other attractions here, I recommend that you don't miss Monte Solaro.
Guest Post By: Margie Miklas
Follow Margie on her blog at margieinitaly.wordpress.com