Guest Post by: HNLhulagirl
Finally, an enjoyable alternative to the overpriced and overdone resorty restaurants in Wailea has arrived, and this one is a keeper. I must admit that I skipped it once only because being from
Kauelma
, home of Merriman's notable flagship restaurant and Merriman's Café in nearby Waikoloa, I felt that perhaps something more unique to Maui would be the better choice.
After a couple of disappointing stints on previous trips at other Wailea resort restaurants, anticipation of Peter Merriman's casual café was high and my table reservations were confirmed for just after noon.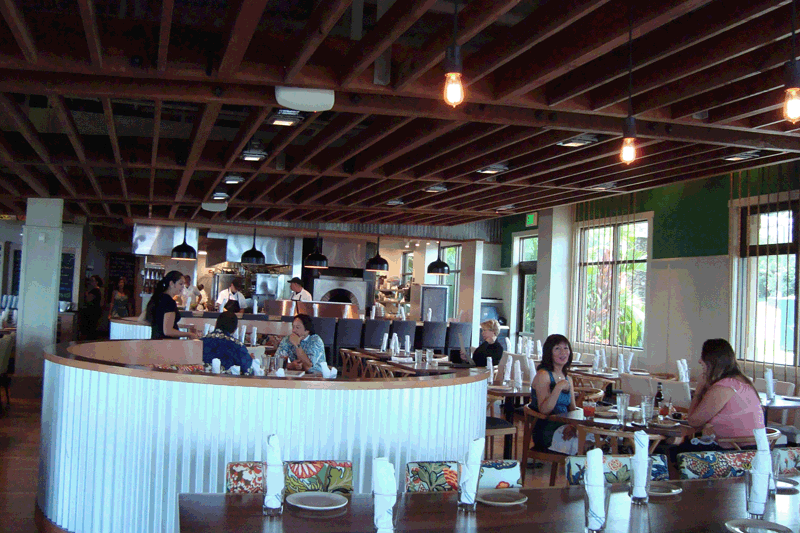 Maybe it's me, but being a lifelong island girl, hotel restaurants with very few exceptions fail to impress me regardless of how crisp the linens, how beautiful the ocean views or how attentive the service. Loyalty in the resort restaurant world is unrewarding and runs thin like a badly made buerre blanc. Re-purposing and new trends make changes regular and often seem to result in a much too mainstream experience that fails to delight or even amuse.
I will put my money on the local Hawaiian chefs any day. These folks are the crux of island cuisine and offer patrons more bang for the buck, more creativity for the cash and more ferocity for the funds.
Island chefs like Sam Choy, Alan Wong, Bev Gannon, George Mavrothalassitis, Göran Streng and Peter Merriman not only have the challenge to keep the menu interesting but also have the daunting task to keep the establishments profitable. These chefs have all succeeded in winning over the hearts and appetites of islanders consistently over the years. Each one is successful, creative and offer high-quality dining experiences..
I finally arrive on Maui after a morning of airport security, seat belt fastening, carry-on stowing. After a task-oriented morning, I was looking forward to my early afternoon respite at Monkey Pod Kitchen. The Wailea Gateway location is wonderful. The restaurant is located upslope and on the fringes of the upscale Wailea resort just far enough from the tourist haunts to make it agreeable. Access is simple and quick via Piilani Highway, which negates having to slog along South Kihei Road. The upper-level location provides just a sliver of ocean, and Kahoolawe views and is wedged along the corner of Wailea Ike Drive.
I entered early and was greeted promptly by host staff in a dining room that was more empty than full. For lack of a better description, I will call the décor tropical trendy. It was inviting and fresh without being kitschy or mundane. The bar occupies the length of the restaurant positioned to take in the ocean views and afternoon light while the open kitchen is toward the rear. The bar is quickly gaining speed as a popular happy hour and meet-up place for islanders and the bar staff is certainly the reason for this acclaim. Aside from being cordial and efficient, they mix a list of fantastic specialty cocktails and offer over thirty types of beer. In addition, there is live music on Fridays, Saturdays and Sundays.
Most of the tables are located on the wrap-around covered patio while banquettes are limited to the air-conditioned interior. For those who enjoy dining alfresco, tables near the front entrance are best to see and be seen while the side patio area offers more privacy but only a view of a resort intersection. For those dining alone, there is seating along the kitchen counter and even a few oversized banquettes for larger parties.
The menu is classic Merriman with a few fresh twists. I was delighted to see his popular white Hamakua mushroom pizza front and center on the menu. I was also excited to see new items, including a designer saimin, dry mein with vegetables and a very interesting Coconut Seafood "Seabury" Chowder that I will certainly try during my next visit.
My visit was filled with a bottomless glass of iced tea, my favorite wood fired pizza (yes the white mushroom one) and a slice of banana cream pie for dessert. Merriman's pizza is done on a thin crust topped with exotic Big Island mushrooms and parmesan cheese. Their selections of pies are made on Maui. My huge slice was silky and creamy. It was filled with generous slices of banana and a flaky homemade crust.
The dining room was cool and comfortable and even though the meal was a bit on the pricey side, it was worth every cent. This restaurant is the perfect spot for long ladies' luncheon, business brainstorming, cocktail co-mingling and delectable dining. Overall the service and food was spot on. I cannot wait to return during my next trip to Maui.