Guest Post By: Margie Miklas
If you are going to Tuscany but looking for some place "off the beaten path" Carrara is the place to go.
There is no place like it and you will be amazed how the sheer immensity of this natural marble basin.
An easy day trip from Florence, Carrara is located approximately 60 miles northwest of Florence and
easily accessible by train or car.
Famous for the gleaming white marble mountains that can be seen from outer space, Carrara is not
nearly as touristy as Florence or Siena. Carrara's marble quarries are present day working quarries and
these same quarries produced the white marble that Michelangelo used to sculpt his famous statue of
David.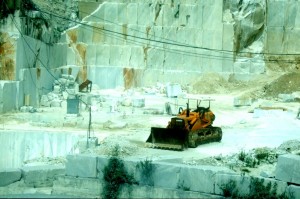 As I learned on my tour of the quarries, there are three separate basins encompassing 23 km of marble.
They include Colonnata, Fantiscritti and Torano. I visited the Fantiscritti basin and the white-knuckle
ride in a 4X4 up the mountain was definitely an adventure, but so worth it. The views from the top were
spectacular, and this was the same location where the opening chase scene in the 2008 James Bond
film, Quantum of Solace, was filmed.
Once at the top of the mountain, I was required to wear a hard hat and learned quite about the exterior
quarrying techniques. The entire process is very labor-intensive, and to validate the level of danger
involved in quarry work, there is a field emergency medical facility right at the quarry. A small marble
museum and gift shop are also located at the Fantiscritti quarry entrance.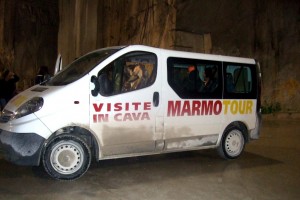 The tour guides are very knowledgeable about the process and the history of the quarry, and the tour
involved inspection of the tools used to do the actual work today, as well the old tools of years gone
by. A few visitors from various countries were also touring the quarries and the guides were fluent in
English, Italian, German and several other languages.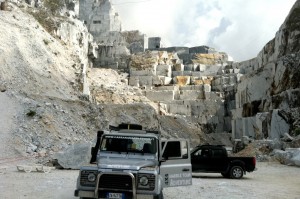 After this part of the tour was completed, another tour company offered tours inside the quarry, where
you can see a different perspective of marble quarrying. On this shorter tour, lasting approximately 30
minutes, you ride in a jeep close to half a mile inside the quarry and learn how the interior quarrying is
accomplished. The entire process is amazing and you see another part of Tuscany that not many tourists
ever appreciate.
Men especially like this tour after spending hours in art museums and shopping for leather in Florence.
Carrara offers a different side of Italy, a little more adventurous perhaps, and one that will not be soon
forgotten.
Other articles by
Guest Post By: Margie Miklas