Guest Post By: Margie Miklas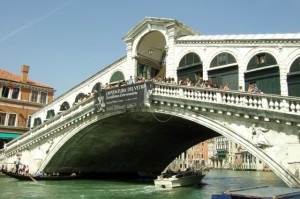 Venice is one of the most visited cities in Italy and there is simply no place like it anywhere. Averaging approximately 20 million tourists a year, most of them Americans, you can expect this beautiful city to be crowded. Here are some travel tips for visiting Venice and making your stay one of the most memorable of your vacation in Italy.
Spend as much time as you can in Venice because it never seems to be enough. If all you have is a day then make the most of it, but if you can manage to stay a few days in Venice, it will be worth it.
Enjoy getting lost as it is part of the charm of Venice. Wandering around the back alleys and narrow streets will give you a feel for how the people live. Eventually you will find your way back to the Grand Canal and take a vaporetto back to your hotel.
Buy a vaporetto ticket for either 24 hours or longer depending on how long you will be in Venice. It is the best way to navigate the Grand Canal and the ticket is for unlimited rides. A single ride is 6.50 Euros so a few rides will pay for an all day ticket.
Take a vaporetto to the islands of Murano and Burano and you won't be disappointed. Burano is a photographer's dream with all its colorful homes next to one another. Murano is the place where artisans still make glass by hand and is known throughout the world as the glassmaking capital.
Have dinner near Piazza San Marco but try one of the numerous trattorias on one of the side streets nearby. The prices are better and they are more intimate. I found a wonderful small family-run restaurant with only five tables and it was one of my favorite places.
Ride the elevator to the top of the campanile in St Mark's square where you will have amazing views of the city. If you happen to be up there when the bell tolls on the hour, be prepared to cover your ears, as it is very noisy.
Wear good walking shoes because you will be doing a lot of walking including up and down steps. Venice was built on 117 separate islands and there are over 400 small bridges across the 150 small canals. This is not exactly a disability-friendly city, as far as walking is concerned.
If you want to take a gondola ride, they are pricey and even moreso in the evening. The prices start at 80 euros for a ride that lasts 40 minutes. More information on riding a gondola can be found here. You have the option of taking a traghetto across the canal for €0.50 or "cinquanta centesimi" and then you can say you rode in a gondola. It's not the same experience but it is an option.
Venice is beautiful, charming and unique and one visit will only make you want to return. I never get tired of the beauty of this 1500 year old city in Italy. Bellissima Venezia!
Other articles by
Guest Post By: Margie Miklas
Varenna- Travel Destination on Lake Como, Italy