If you find yourself in Florence, Italy, and are one of the lucky ones that took a extended stay at one of the many hotels or Florence apartments available, you must make time for a day trip to nearby Siena. Just 50 kilometers from Florence, this beautiful Tuscan treasure never fails to deliver a unique experience. Situated on three hills, the extremely well preserved city is surrounded by olive trees and vineyards, and with a mild climate all year, there is never a bad time to visit.

Multiple trains leave daily from Florence and, in about an hour, arrive in Siena. Travel by car is even a touch quicker, but it should be noted that almost no traffic is even permitted in the city center. Either way, the minimal effort to get to Siena will be well rewarded.
Siena´s historic center, which has been declared a World Heritage Site by UNESCO, is worth the trip on its own. This stunning piazza is an architectural wonder that begs some exploration. There are a plethora of impressive cathedrals and museums in close proximity as well.
Of course the food is top notch, as is expected from any respectable Italian town. Highly recommended restaurants include Antica Trattoria Papei, Osteria del Ficomezzo, and Il Canto, which has been rated in the top 50 in the world. Also, don´t forget to try the wild boar that can be found on many local menus. As for the wine, Siena is located in the middle of arguably the best red wine region in the country. So whether you are enjoying a glass with a world class meal or splitting a bottle with some company as you watch the world go by, the wine is sure to be exquisite.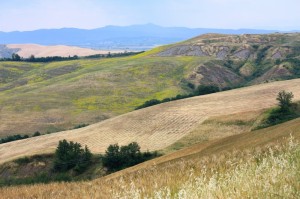 If you are lucky enough to visit on either July 2 or August 16, the famous Palio di Siena can´t be missed. This horse race is of the traditional medieval variety and is ran in the Piazza del Campo. Wildly popular even beyond Italy, this dangerous and brutal race draws huge crowds and brings a wealth of pride to the local population.
No matter when you choose to discover all that Siena has to offer, the friendly people, picturesque setting, fantastic food and drink, and exciting culture are all waiting to be experienced. The quick trip back to your apartments in Florence will make for a truly unforgettable time in a classically beautiful Siena, Italy.