Guest Post By: Margie Miklas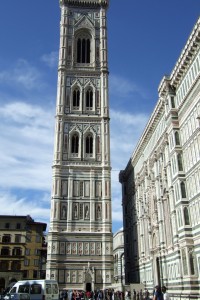 The 278 foot high Campanile in Florence is also known as Giotto's Bell Tower and is not actually attached to the Duomo, like many other campaniles, but instead is a free standing tower in Piazza del Duomo. The only way to the top is to climb the 414 steps as there is no elevator. For a cost of six or seven euros I joined the other adventurous visitors of all ages and started up the staircase, not really knowing what awaited me.
It was my second visit to Florence and I was not going to miss the spectacular views I had heard about from the top of the Campanile. I arrived midmorning and I decided to do it before it got hot and before I was exhausted from a day of walking and sightseeing.
In 1334 Giotto di Bondone who was 67 years old, designed the bell tower for the Duomo in Florence, and although he died just three years into its construction, the famous artist and architect is credited for its design. Pisano took over afterwards and following him, Francesco Talenti completed it in 1359.
The Campanile is distinct with its three different colors of marble, red marble from Siena, green marble from Prato and white marble from Carrara. This tall slender monument is considered to be one of Italy's most beautiful and should not be missed.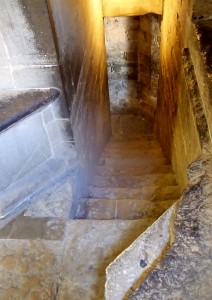 The climb to the top is definitely not for the average traveler. The steps begin with a width of about 30 inches and as I climbed higher I discovered that the steps become much narrower. This is not recommended for anyone with claustrophobia. Since there is only one staircase, many times those climbing find it necessary to step to the side to allow those descending to pass. This is a commitment as there is no opportunity to turn back.
I was encouraged that I was not the only one huffing and puffing on the ascent. Even the younger climbers were finding this strenuous. At several points there is a landing which offers an opportunity to take a break and it is a welcome relief. There are seven bells in the tower and from the top there is an opening to look all the way down inside the tower.
At the top, the reward is totally worth the effort as the views offer panoramas of the city as well as the other great landmarks in Florence, particularly Brunelleschi's dome of the Duomo, the Basilica of Santa Croce and the Baptistery. The Duomo also has great views and is a little higher but I think the views from the Campanile are better since I can see the Duomo from here. Besides the beautiful views of the city, the sense of accomplishment of having climbed this tower is priceless.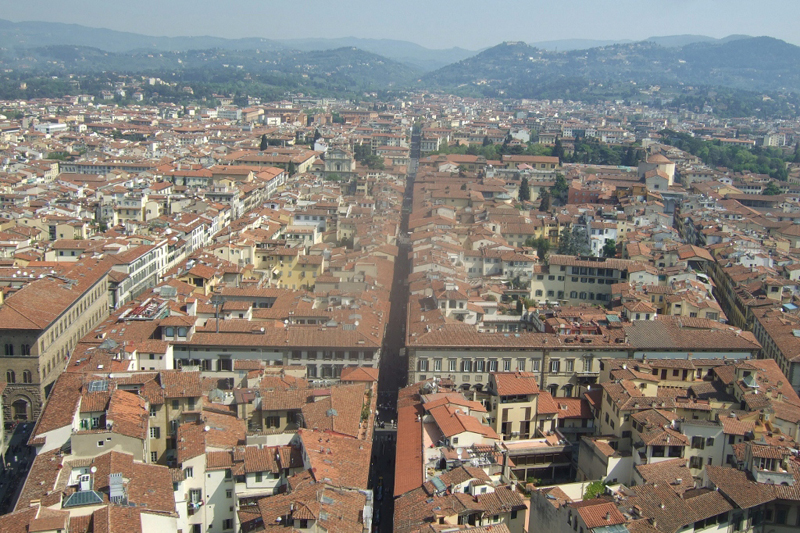 Guest Post By: Margie Miklas