Guest Post By: Margie Miklas
Deep in the southern part of Italy is the city of Lecce, located in the Puglia region, commonly referred to as the "heel" of Italy. Lecce is frequently called the "Florence of the south, "although most Florentines would argue that nothing could be compared to the beauty and art that is Florence.
Lecce's reputation is based primarily on its 17 th century Baroque style architecture. The title of Lecce Baroque or barocco Leccese defines a style of architecture which dominates the facades of buildings and churches in Lecce, as well as monuments, terraces, courtyards, railings and windows.
The soft local limestone known as "pietra Leccese," makes it easier to carve intricate designs on what starts as a soft mass of stones and becomes hard over time. The Leccese Baroque style of architecture consists of very detailed decorative sculptured designs such as cherubs, flowers, leaves, fruits, animals, garlands and vegetables.
One of the most elaborate examples of this is seen in the Basilica di Santa Croce, built in the 16 th and 17 th centuries, and considered to be a "masterpiece of Leccese Baroque" architectural style. The Basilica's facade is full of carvings of cherubs, gargoyles and other details and its rose window and interior pillars are works of art. The Baroque features can be found inside as well as out.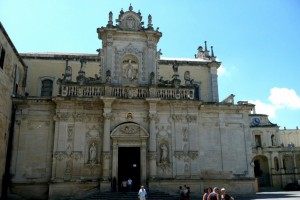 The historic center of Lecce, or cittá vecchia, is partially surrounded by walls, and an easy and interesting walkable area.  There are two main piazzas in Lecce, Piazza San Oronzo and Piazza del Duomo, the former more of the civic center and the latter the religious center.
Piazza San Oronzo
Dedicated to Saint Oronzo, this piazza is dominated by a 95 foot tall column topped with a bronze statue of the patron saint of Lecce. Saint Oronzo was a former bishop of Lecce appointed by Saint Paul in the year AD 57. The bronze statue was erected in his honor in 1739, as he was credited with saving the city from the plague in 1656. Every August a festival is held here in his honor.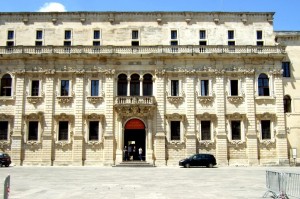 In this same piazza is what is left of a Roman amphitheatre dating back to the first century BC. It once held 20,000 people and today parts of the amphitheatre are visible. The excavation occurred in 1938 and the restoration work continues today, so the amphitheatre is not yet open to the public.
Just off this piazza, is one of the most popular gelaterias/pasticcerias, aptly named Gelateria Pasticceria Natale. Serving some of the best gelato, pastries and chocolate, it opens early in the morning and closes late at night. This is a plus in a city that experiences severe heat in the summer and most shops close in the afternoons.
Piazza del Duomo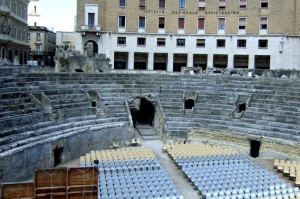 This piazza is dominated by the beautiful cathedral and campanile or bell tower. Construction began in the 12 th century and the Duomo was renovated extensively in the 17 th century. The campanile is over 200 feet tall and the cathedral's interior has no less than 12 altars in addition to the main altar.
In this piazza is another Lecce Baroque historic building, Palazzo del Seminario, a two-story building which has a courtyard with more examples of the architectural style. You can spend several hours exploring this piazza alone and if you have a camera, even more.
Lecce has many more churches and palaces, almost all of which are of this architectural design style and worthy of a visit. One of particular interest is the Church of Santa Chiara, which has a very ornate sculpted facade and an interior which features a ceiling made of papier mache. It is located in the smaller piazza, Piazza Vittorio Emanuele.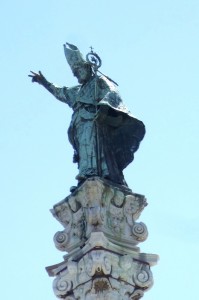 Lecce is an easy day trip from the larger cities of Bari or Brindisi and a "must-see" if you are visiting southern Italy.
Other articles by
Guest Post By: Margie Miklas
Alberobello- One of Italy's Most Unique Cities
San Gimignano-Town of Beautiful Towers in Tuscany
Travel To The Marble Quarries Of Carrara, Italy
Travel Tips for Visiting The Amalfi Coast, Italy
Varenna- Travel Destination on Lake Como, Italy
Travel Tips for Visiting Venice Italy