Train travel is much more prevalent and popular throughout
Europe
than the
United States
. In major European cities such as Paris,
train stations
are busy and bustling, transporting people over the continent.
Gare du Nord
, in the northern section of the Paris, serves thousands of travelers each day with departures and arrivals, restaurants, shops and pubs.
The original Gare du Nord was completed in 1846. By 1864 Gare du Nord had to be rebuilt three times to expand and accommodate the growing number of travelers. The name "Gare du Nord" is based less on its location within the city and more based on where the majority of the trains depart and arrive. Gare du Nord serves the Benelux countries, Scandinavia and Northern Germany.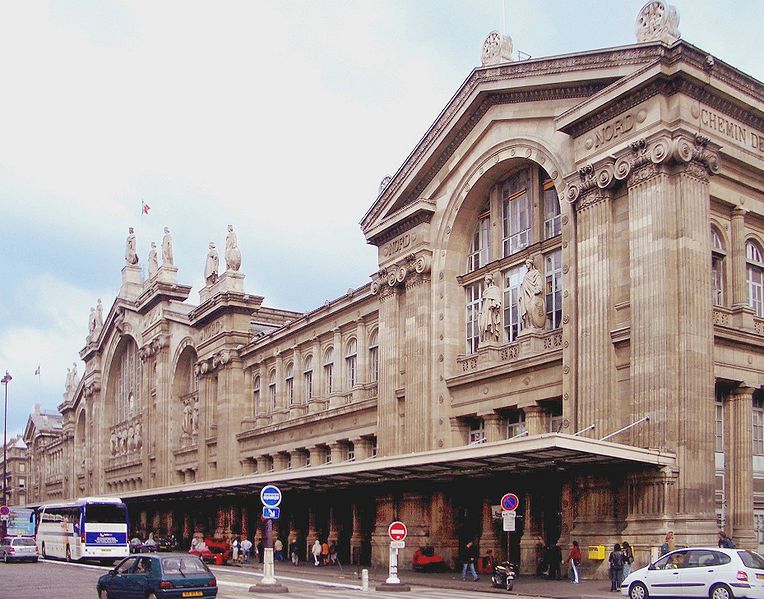 Located at 18 Rue Dunkerque in Paris, Gare du Nord is open between 5 am to 1 am daily. The Regional Express Railway (RER) B line departs for Charles de Gaulle airport every 7 to 15 minutes each day, guaranteeing connections between the two travel mediums.
Eurostar, TGV and Thalys railways serve the Netherlands, Belgium, Luxembourg, Northern Germany, Denmark, Norway and Sweden out of Gare du Nord.
Within the station is free WiFi – a sure sign of the changing times. Pay telephones, toilets and lockers are available throughout the station. Visitors have access to a regional tourism office open between 9 am to 8 pm. Currency exchange is done through a Thomas Cook kiosk where up to date rates are available. Newsstands stick current magazines and newspapers in a variety of languages to accommodate the variety of travelers coming through the station.
There are four restaurants serving small meals and fast food as well as beer and wine throughout the Gare du Nord premises. Use the baggage consignment office to check large bags for a half-day or longer. Remember to keep your stub to retrieve your bags.
Taxi stands are outside entrances to the station, with valet flagging and parking near by. Sight-seeing in locales such as the Monmarte and Sacre-Couer are just outside the station. Gare du Nord is in Paris's 10th arrondissement, the subsections of the city.