Guest Post By: Margie Miklas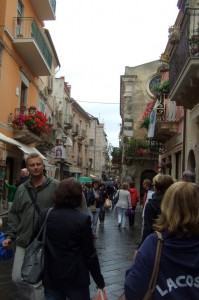 Taormina is Sicily's most famous resort, situated on the beautiful Ionian Sea on the northeastern coast of Sicily. Visitors come here for the weather, the culture, the food, the ambience and the shopping.
Corso Umberto is the primo shopping street beginning at Piazza Sant' Antonio and ending at Piazza Vittorio Emanuele II. It is usually crowded with tourists who do not seem to mind the prices. There is no lack of variety in the shops along Corso Umberto and the items for sale range from regional hand-made ceramics to fine designer clothing to delicious dolci perfected in Sicily. Here is an idea of what you can find on a shopping day in Taormina.
Ceramics
Taormina has several shops which offer a wide variety of beautiful hand-painted ceramics from Caltagirone. Known as the Sicilian capital of ceramics, Caltagirone is less than two hours away. I have lingered in these shops on more than one occasion trying to decide from among the abundant selection. Although the prices are more than in Caltagirone, the ceramics are still a good buy compared to what I would have to pay in the States.
*Carlo Panarello is one of the recommended shops which sell hand-painted ceramics plus other things. You may even be able to watch the process in the workshop here, which is situated at Corso Umberto, 122.
*Giovanni di Blasi at Corso Umberto, 103 also offers ceramics of high quality from Caltagirone.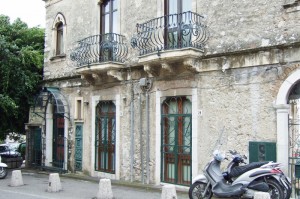 Jewelry
If you are interested in jewelry, Taormina has unusual pieces of fine coral jewelry in brilliant colors of scarlet and pink. A few of the shops offering quality jewelry here are:
*Kiseki Jewels at Corso Umberto, 55
*Sebastiano Rapisarda Gioielli at Corso Umberto, 74
*Monili di Guglielmetti Renata at Corso Umberto, 71
* Romano / Emilio at Corso Umberto, 75
There are shops selling marzipan in all shapes and almond wine called "vino alla mandorla," which I had to buy. It is made in the nearby town of Castelmola. In Taormina you can find local products not found elsewhere, such as items made from lava rock from Mount Etna which is Europe's most active volcano and can be seen from Taormina. Some of these items include earrings, ashtrays and little pots shaped like volcanoes.
Clothing Boutiques
Clothing boutiques and shoe stores are plentiful featuring the latest haute couture from Italian designers. If you are looking for chic fashions from Dolce and Gabbana, Prada, Gucci, Armani or Fornarina, you can find them on Corso Umberto. Some of the clothing boutiques lining this street include Parisi, Musumeci, Chien and Royal Blue.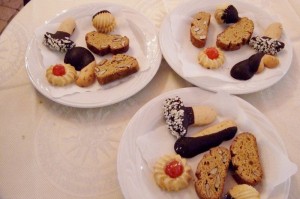 Dolci and Pasticceria
Sicily has the best sweets and especially the cannoli which are my favorite. Here are a few places on or near Corso Umberto to stop during a shopping break for a wonderful treat.
*Bar Trinacria is located just off Corso Umberto and has a great selection of gelato as well as cannoli and other Sicilian pastries to die for. I have fond memories of a cannoli and cappuccino under an outdoor covered area while it was raining.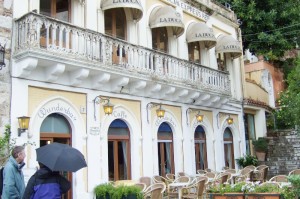 *Caffè Wunderbar – One of the most famous places in Taormina to have a granita, cappuccino and cannoli among many other dolci. This is a must for anyone who has never been to Taormina.
*La Torinese is a deli that has been in Taormina for over 75 years and has a great selection of cheeses, wines, breads, grappas, sliced meats and pastries.
*Bar Pirandello on Via Pirandello is a great little place to stop in and have a Panini and of course a cannoli. Homemade cookies made from pistachios from nearby Bronte are sold in bags to take home, a nice feature.
Guest Post By: Margie Miklas