Oh no! did I jinks myself on writing my last blog post "My Endless Summer"? That's what I was thinking as we flew in this Saturday morning into Sao Paulo Brazil. Leaving last night for the 10 hour all night flight from New York JFK International Airport I knew the weather was calling for rain and cold weather in Sao Paulo, upper 50′s, hey that is cold for Brazil.

Well as we started the approach into Sao Paulo Guarulhos International Airport the airport weather was calling for overcast skies, as we turned on  final approach we realized the weather report was a little behind for we were getting light to heavy rain. Breaking out of the clouds just a couple hundred feet above our missed approach altitude of 2644 ft (200 ft above the ground) we could see that it was going to be a very wet day in Sao Paulo. The ride into the city was not improving weather wise, the rain was still coming down and it was cold. Should not have written that last article on my string of sunny days . Oh well. Ok this will be a sleep day and an indoor day.

Checked into the hotel, agreed to meet my first officer at 2 in the afternoon after a couple hours of sleep and we would see what the day has to offer.
Threw back the curtains at 1:30 to find a cloudless day, the Gods had ended the rain, they had given a nice washing down of Sao Paulo and and now the sun was out in full force, and the temperature was now in the mid 60′s. It was going to be a great day in Sao Paulo, let the endless summer continue.

Met up with the copilot and decided to head down Paulisto Ave to the electronic flea markets, you know the place to get DVD'S and software for cheap, we were just looking:).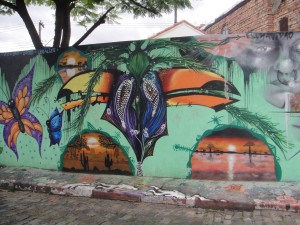 Later I met up with some friends from the Miami flight and decided since it was Saturday, that we would head over to Vila Madalena, one of Sao Paulos western suburbs. Arriving in Vila Madalena since I had been there many of times and this was the first time for 2 of the guys, I showed them the winding street that is covered with about 50 wall murals or as they call it in Sao Paulo graffiti.
For those that are new to Vila Madalena, this is a great neighborhood for travelers who arrive in Brazil and immediately ask the question, "What is the nightlife and entertainment like in Sao Paulo?" The region thrives off of dance clubs, restaurants, culture, and art. It is one of the most popular areas for young adults in Brazil and offers one of the most exciting cultures that visitors can imagine.
So with my initial worries of jinking myself with my last post, the weather cooperated, and we had another day in Sao Paulo that I think I could add to my endless summer streak. But then again it is not always the weather that makes traveling enjoyable, most the time I think it is sharing the moment with friends in a far off local.
Looking for more information on Vila Madalena? thinking about traveling to Sao Paulo or Brazil? then come join us at Beachcomber Pete Travel Adventure Guides.