When the words Rio de Janeiro are spoken, a whole different world comes to mind. Bikini clad women gracing world renowned white sand beaches with names like

Ipanema

or

Copacabana

, it might be the image of unbelievable tropical landscape merging into the deep blue waters of the Atlantic, or the sights and sounds of unforgettable street festivals like Carnival. Whatever the words Rio de Janeiro bring to mind you will most likely find in the Cidade Maravilhosa( Marvelous City).

Rio de Janeiro or the Cidade Maravilhosa as it is known by Cariocas (residents of Rio) has become a city that celebrates all that life has to offer. With its many ethnic groups bring many different cultures; the residents of Rio de Janeiro have used music, dance and festivals to bring it all together into one big melting pot by the sea.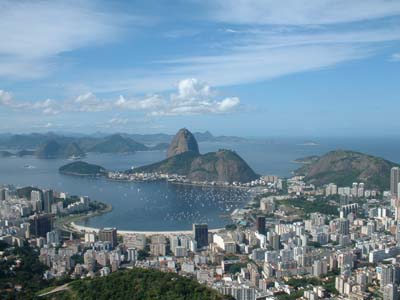 Rio de Janeiro was first discovered in January of 1502 by a Portuguese expedition headed by Italian Navigator Amerigo Vespucci. Entering Guanabara Bay and thinking it was the entrance to a river estuary the expedition named it Rio de Janeiro after the month of their find. By 1555 a settlement in the bay became known as the City of Rio de Janeiro. As Napoleons army descended onto Lisbon Portugal in 1807 Prince Dom Joao VI and 15,000 of his subjects set sail on 40 ships to Rio de Janeiro, where upon their arrival the people of Rio celebrated with dancing in the streets. Dom Joao VI soon made Rio de Janeiro the capital of the United Kingdom of Portugal Brazil. In 1889 when Brazil took its independence from the United Kingdom of Portugal the state took on the name of Rio de Janeiro. At the time of independence Rio de Janeiro became the capital of Brazil until 1960 when the capital was moved to Brasilia.

By the late 19th century due to heavy European immigration as well has immigration within Brazil, Rio de Janeiro saw the city's populations grow to over 1 million people. Today the city of Rio de Janeiro has a population of over 7 million and a metropolitan population of over 11 million people.
The city of Rio de Janeiro can be divided into 2 zones, Zona Norte which is mainly made up of working class neighborhoods, and Zona Sul that is home to Rio's famous Beaches and upper and middle class neighborhoods.
Many travelers to Rio de Janeiro are in search of the city's famous landmarks, Sugar Loaf Mountain with its spectacular views of the Bahia de Guanabara and the world famous beaches of Copacabana, Ipanema and Leblon , the statue of Cristo Redentor sitting high atop Corcovado mountain overlooking the city of Rio de Janeiro. The tram ride up to Santa Teresa, with its colonial mansions and cobble stone streets lined with neighborhood restaurants and cafés overlooking the centro section of Rio. Once home to Rio de Janeiro's rich and upper class now is home to the city's artist and bohemian residents has become a favorite with travelers
.
The world famous beaches are also a big draw for travelers to Rio de Janeiro. Copacabana, most likely one of the most famous beaches, stretches for 3 miles separating beautiful mountains and the deep blue waters of the Atlantic. Tree lined streets offer a place for tourists and locals to mix and enjoy the many restaurants and small bars. Copacabana is still a great place to sit back, relax with a Caiprinahas(Brazil's national drink), and just watch the beach life unfold on one of the world's most famous beaches.
Starting in the 60's and the Girl from Ipanema, Ipanema Beach has become internationally known for its tree lined streets and open air cafes and bars. Today home to Rio's wealthy and artist community, Ipanema Beach has become more hip than Copacabana Beach. With larger waves and a stronger undercurrent, Ipanema Beach tends to be cleaner than Copacabana Beach.
A stop to this tropical paradise by the sea is a must for traveling to Brazil. Whether for the beaches, the views or just to experience Carnival one will be mesmerized by Rio de Janeiro.