Gare de l"est is one of six SNCF train stations found in Paris. Gare de l'Est is not far from Gare du Nord, another in the string of stations. Both stations are in the 10th arrondissement of the city. Gare de l'Est is set up to serve trains departing for and arriving from areas east of the city.
Gare de l"est was built in 1847, in the Belle Epoque design so familiar in the city. The "newer" west wing was completed in 1854 and was made to help alleviate growing crowds heading into the Strassbourg region of France and Germany. As a point of fact, Gare de l'Est was built by Compagnie du Chemin de Fer de Paris à Strasbourg (the Paris-Strasbourg Railway Company) and originally was to be called the "Strasbourg Platform."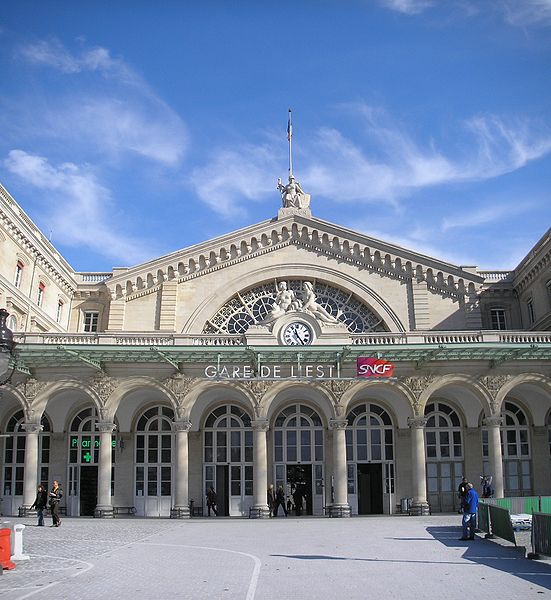 France's TGV along with City Night Line and Lyria train lines operate out of the station and serve Germany, Eastern France, Austria and the German speaking region of Switzerland.
Daily shuttle service to Paris's international Charles de Gaulle airport depart from the Gare de l'Est premises every 7 to 15 minutes each day. The operating hours of the station are approximately 5 am to midnight each day.
Within the station are several newsstands that carry books and periodicals in English, French and German to accommodate the mix of languages and travelers.
Paid parking around the terminal is available and the address should you be driving to the station is Place du 11 novembre 1918 75010 Paris. Valet baggage service and luggage check is available at the consignment stand within Gare de l'Est. Luggage lockers are on the left-side of the building and are for use between 6:30 am to 11:15 pm. Luggage left overnight is disposed of.
Three small restaurants that serve a variety of fast food and sandwiches serve the three main tracks of Gare de l"est. Beer and wine is served along with food should you desire.
Gare de l'Est is a WiFi hotspot, allowing you to check email and surf the web while waiting for your train. Telephone stands are available within the terminal should you be traveling without a cell phone.