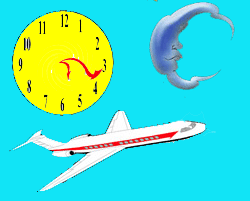 Normally one associates Jet Lag with a loss of sleep from traveling across many time zones usually in a East to West or West to East direction in a short number of days. One of the things about being a pilot and Jet Lag is not only the traversing of many time zones but also working or being up on the back side of the clock.
This week has been a good example of Jet Lag from my view as a pilot. The week started out normal with my commute up to New York from Orlando. I had been given a 5 day trip to Sao Paulo Brazil; departure time was scheduled for 9:35pm Friday night from New York, with a 9 hour 50 min flight time and a 1 hour time difference we were to arrive in Sao Paulo at 8:30 Saturday morning. So this flight would be on what we call the back side of the clock, we would be flying all night. Since the flight is over 8 hours, according to FAA regulations we have to have three pilots, one Captain and two First Officers. With 9:50 minutes of flying time and the extra pilot we would get almost a 3 hour break during the flight. Am I confusing you yet?
FAA requires three pilots when the flight is over 8 hours, but it still only takes two pilots to fly the plane, thus giving the extra pilot a chance to take a break. So if you divide the 9:50 minutes into three and allow for a time when all there pilots are in the cockpit for takeoff and landing, required by the FAA, you can then break the rest periods into 3 equal time periods, this night it worked out to 2:55 minutes.
Ok , so on this particular flight , New York to Sao Paulo, we will be flying all night, we will get a almost 3 hour break, now I am lucky, on the Boeing 777 we have our choice of a rest seat in 1st Class or our choice of a bunk bed behind the Cockpit. Flight attendants have a bunk bed in a room between Business Class and Coach. Now with a choice to pick a place for my break, I chose the bunk. Now one of the problems for me is winding down enough to get some sleep, one of the problems we tend to find is when flying the plane your adrenaline goes up, your mind is doing a lot of thinking, so for me it is not easy to just fall asleep, usually when getting in the bunk it takes me about 20 to 30 minutes of reading a book to wind me down. So now we take 30 minutes away from the 2:55 minute break and I am down to a 2:25 nap. Ok, but again this turns out to be not a deep sleep, because being in charge of the plane your mind is working in the background thinking about the flight.
We arrive Saturday morning to rainy weather in Sao Paulo; we shot the landing approach to minimums thus really getting the adrenaline working overtime again. Arrive in Sao Paulo at 8:30am, long bus ride into the city and by the time we check in and get to the room it is almost 10 in the morning. Ok most travelers would think ok 8 hours in bed and I will be good to go. Problem with this thinking if I were to sleep 8 hours now, get up a 6pm, I would not be able to fall asleep until very late into Saturday night and maybe early Sunday morning. This will not work since we have an 8: am pickup Sunday morning to fly from Sao Paulo to Rio de Janeiro'.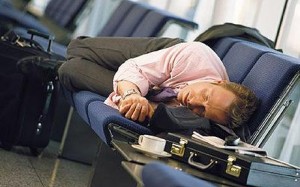 To be rested for Sundays flight, the best thing is to only take a 2 or 3 hour nap Saturday morning, force yourself up, get out and about have a nice dinner and then get to bed at decent hour like 9 or 10pm so you will get a good 8 hour sleep before the next day's flight.
Sound good so far? Ok, a 2:30 rest break on the flight down, 2 to 3 hour nap Saturday morning you are still short 4 hours of sleep in the last 24 hours and the 2 naps were not quality sleep time. Sunday morning we do the trip over to Rio de Janeiro and back to Sao Paulo Sunday night. Sunday night we get a normal sleep, but Monday we do the trip in reverse to New York.
We leave Sao Paulo at 9:15 pm Monday night to arrive in New York at 6am. Arrive in New York at 6 am and catch a flight back to Orlando and in the house about 10:30am. Same scenario as Sao Paulo, if you sleep for 8 hours it will be early evening Monday when you get up with the consequences being unable to sleep Monday night. So once again you limit your sleep to a couple of hours.
It's been 5 days of traveling in a North to South direction, only moving 1 time zone yet I lost in reality 2 good sleep days out of 5, a deficit on sleep. Usually you will make it up in the next day or so, but this week it would not happen.
Monday, the day I just got home from flying up from Sao Paulo via New York to Orlando (home), I get the call that I will be needed for the 11:30 pm trip to London on Tuesday night, tomorrow night. Ok , not so bad, who is going to turn down a trip to London.
Tuesday comes, after getting good nights sleep Monday night I head up to New York early so as I will be in position and try to get a nap in since I know it is going to be a sleepless night again. The 11:30pm to London gets delayed till 1am for delayed inbound aircraft. All said and done we end up leaving New York at 1:45am, which is now Wednesday morning. A 7 hour flight from New York to London at this time of the night gets us a 3 man crew. With 3 crew members the break works out to about 1:50 mins, again not enough time to relax and get quality sleep.
The big difference now on the Jet Lag comes that we are traveling west to east, changing 5 time zones. Leaving New York at 1:45 in the morning, it is within a hour to 1 1/2 hours that we could see the first signs of dawn on the horizon, it is going to be a long day or should I say a very short night.
Arriving in London at 1:45pm Wednesday, it is 3 o'clock before we get to the hotel. Same thing as before if we sleep 8 hours now we will be up all night, so again it is a short nap, force yourself up, have a nice dinner then get a full night's sleep like the rest of the world to be ready to fly the return flight on Thursday back to New York.
Thursday comes, 6:30pm departure from London for a arrival in New York at 9:30pm, Now the Jet Lag in reverse, 5 time zones going from east to west. All said and done, 8 days on the road I figured I lost 4 good days of sleep, it took me about 2 full days to fully recover from the sleep loss and get back on a normal sleep schedule. Is it doable? Yes, is it worth it? Well 4 great cities in eight days, good company, if you know how to manage the Jet Lag it is worth it.