6 Hours in Rio de Janeiro (part 2) We flew in for the day from Sao Paulo with another 6 hour layover in Rio de Janeiro. Looking to see how we could spend the afternoon in Rio, my copilot and me grabbed a taxi at the airport and headed for Sugarloaf Mountain or Pao de Acucar as the Brazilians call it.
Located at the mouth of  Guanabara Bay lies Sugar Loaf Mountain. Driving along the avenue flanking Botafogo Beach you are given an excellent side view of Morro da Urca, the lower mountain at 700 feet and Sugarloaf Mountain at 1300 feet. The taxi driver dropped us off at Urca where the cable car station is located to climb the mountains. Two glass enclosed cable cars carrying up to 75 passengers leave the station every 20 minutes for the 5 minute ride to the first stop at Morro da Urca. Excellent views of Sugar Loaf Mountain, Botafogo Beach as well as downtown Rio and Corcovado with the statue of Christ Redeemer can be seen from the Morro da Urca station.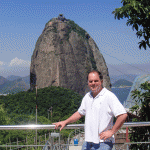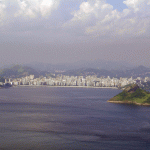 Next was another cable car ride to the top of Sugarloaf Mountain with unbelievable views of the entrance of Guanabara Bay and Niteroi City located on the eastern shore of the Guanabara Bay. To the north is Aeroporto Santos Dumont, with the planes today taking off headed right towards Sugarloaf before banking off to the east, to the west another great view of Corcovado and the city of Rio, coming around and looking south a great view of Copacabana. On the top of Sugarloaf mountain there were several trails wandering thru jungle like vegetation offering great viewing points around the mountain, we did see a couple of climbers finishing up a climb with ropes and repelling equipment. Both Sugarloaf and Morro da Urca had snack bars and facilities.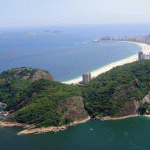 Traveling to the top of Surgarloaf Mountain one needs to plan on a minimum of 3 hours to enjoy the views, today's adventure took us 5 1/2 hours from Rio's Galeao International Airport, to the top of Sugarloaf Mountain and return to the airport.
Before leaving and heading out to Sugarloaf Mountain we were told it is best to see Sugarloaf first and much higher Corcovado with the statue of Christ Redeemer second so one is not disappointed by the views. We found the views from Sugarloaf were spectacular and well worth the visit.
Explore more of Rio de Janeiro with Beachcomber Pete