Guest Post: Ruth Elayne Kongaika
Having experienced four distinct seasons in Utah, our small children were a bit concerned about Christmas when we moved to Hawaii, the land of eternal summer. Rarely does the temperature on Oahu get below the high 60s in December, and chimneys are quite rare. How could Santa find us in the middle of the Pacific Ocean and with no snow for his reindeer?
We soon learned a different way to say Merry Christmas, Mele Kalikimaka, together with many new holiday firsts. Our favorite thing to do on Christmas soon became putting together a picnic lunch and heading for the beach. Instead of making snowmen, you can make sandmen at the beach.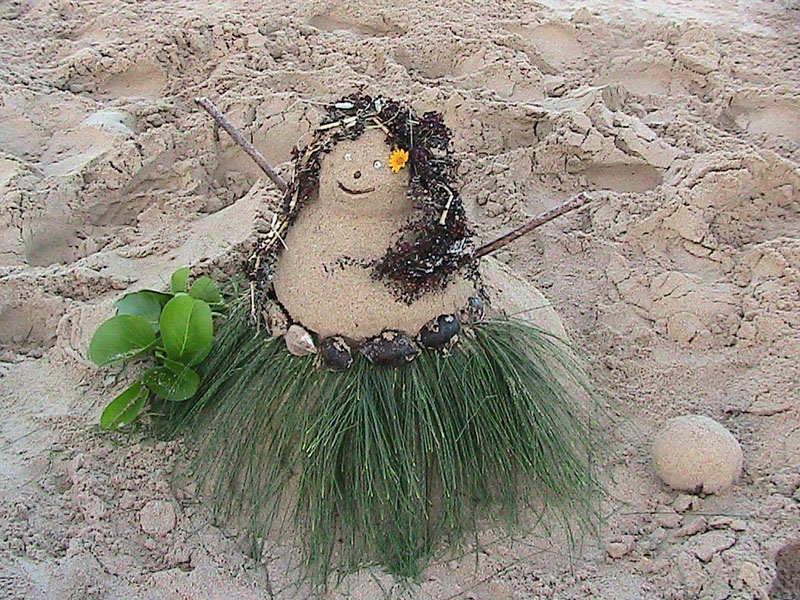 I admit that we missed the beautiful snow right after a storm as well as winter sports, and it was a bit hard getting in the holiday mood whilst baking Christmas goodies sweating in the hot kitchen, but some things are quite similar. The first week of December the big town of Honolulu turns on the Christmas lights. It is a very festive and exciting time for everyone. There are rides for the children and plenty of food booths. Choirs, quartets and other groups share Christmas music, and the malls and little stores get involved in the joyous celebrations.
Since winter in Hawaii is usually when we have the largest waves, there are many surf competitions. The North Shore is crawling with surfers and admirers from all over the world. Some of the waves get over twenty feet tall, and only the best surfers can maneuver them.
So, while some people on the mainland are enjoying a winter wonderland skiing on the slopes, seasonal waves in Hawaii are reaching record heights. One competition, The Quiksilver which has only been held eight times in 25 years, happens when the waves are a sustained 20-25 feet high. Some of the faces exceed 40 feet. The last time the competition occurred was in 2009. The surfing competition is held when the waves are at their best at Waimea.
Although we celebrate a little differently than in the mainland, Christmas gifts are still shared with friends, neighbors and family. It is also time to share delicious Hawaiian delicacies, hang out and sing favorite songs. Often a family will have a luau with poi, kalua pig, laulau, lomi lomi salmon, and haupia or mochi for dessert (they are ono – yummy!)
You may be familiar our Hawaiian Christmas song:
Mele Kalikimaka (Song Lyrics)
Mele Kalikimaka is the thing to say on a bright Hawaiian Christmas Day
That's the island greeting that we send to you from the land where palm trees sway
Here we know that Christmas will be green and bright, the sun to shine by day and all the stars at night
Mele Kalikimaka is Hawaii's way to say Merry Christmas to you.
Images of Santa in Hawaii may not have a red felt suit on, but rather a lavalava and aloha shirt, and he will be riding a surf board instead of his sleigh. Stores still sell sweaters and warm clothing, since some of the locals who have lived their whole lives here get cold when the temperature goes below 70 degrees. It is not too unusual to see people wearing socks with flip flops.
We learned to adapt in many ways to our Christmas holiday in Hawaii, but have found that the Christmas spirit is alive and well in Hawaii.
Ruth Elayne Kongaika was raised in the mainland, USA, and has been traveling in the South Pacific for the past forty years. She tries to capture the beauty of the islands through her photography, painting and writing. She has a blog which shares some of her art and favorite subjects at:
email: kongaikr@byuh.edu