Guest Post By: Margie Miklas
Established in 1890 Yosemite National Park is one of the most visited of all the National parks, with over four million visitors in 2011. Covering 1169 square miles this UNESCO World Heritage site is the home of waterfalls, giant sequoia trees, and elevations over 13,000 feet.
Yosemite Valley
Yosemite's peaks and valleys offer very different experiences and weather patterns; Yosemite Valley is one of the most popular and most crowded areas in the park. It is considered the heart of Yosemite even though it only covers seven square miles. To make things easier with traffic flow the park has free shuttle buses that you can take from the day use parking lot near Yosemite Village. The shuttle buses are great since they are the only way to access many areas which are closed to car traffic.
With the shuttle buses you can visit the Valley Visitor Center, Lower Yosemite Falls, Happy Isles, Mirror Lake, Tunnel View, and Bridalveil Fall.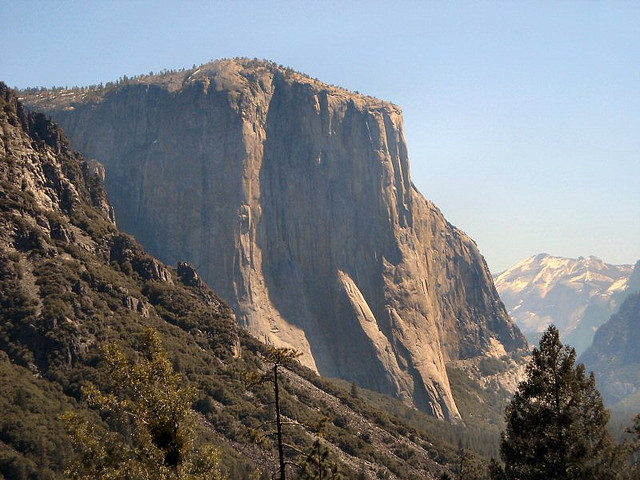 High Country camping
In the higher elevations of Yosemite you can expect snow at any time, and some of the roads are closed due to weather so it is best to check ahead of time. One time on a whim we decided to drive from Las Vegas to Yosemite and camp. It is a seven hour drive and we arrived via the eastern entrance and Tioga Pass. It was late so we ended up camping in the high country. We pitched our tent and went to sleep, only to awaken in the middle of the night freezing. When we looked out it was snowing and we ended up sleeping in the car!
It was 110 degrees in Las Vegas and Death Valley and in less than 24 hours we were in freezing temperatures. Tioga Road and Glacier Road are usually closed due to snow until May or June and we were lucky the road was still open that morning. Yes the weather can change in a moment, and we were able to move to a lower elevation and enjoy the park.
Waterfalls
Yosemite has over 20 waterfalls and they are gorgeous, although not all have water flowing all year round. Yosemite Falls, the nation's highest waterfall has a drop of 2425 feet and stops flowing in late August since it is totally fed by melting snow of the Sierra Nevada Mountains. Its peak flows are in late may, and the falls start flowing again sometime in October.
Most areas require advance reservations for camping since Yosemite is such a popular destination. Five months ahead is the suggested time to make a reservation to get the campground of your choice.
Giant Sequoias
The Mariposa Grove is home to the giant California sequoias of Yosemite and some of these trees are 3000 years old. Near the south entrance of Yosemite, this grove has over 500 of these giant trees. From the parking lot there is a tram tour you can take to see more of the trees, or you can hike the 0.8 mile uphill trail to view the Grizzly Giant and California Tunnel Tree. The tram tour lasts about an hour and fifteen minutes and costs roughly $25.
Rock Climbing
Two of the other highlights in Yosemite National Park are not only beautiful but attractive to rock climbers. El Capitan or "The Chief" is considered to be the largest granite monolith in the world, and extremely challenging to mountain climbers. This is a sheer vertical wall of granite, measuring 3593 feet from its base to its summit, attracting climbers from all over the world.
The other giant rock is Half Dome, which is so huge it is larger than the Rock of Gibraltar. At 8842 feet high, the summit is typically 15 to 20 degrees cooler than Yosemite Valley. This also is quite a challenging climb.
Yosemite has much to offer and really requires several days to truly enjoy the park. It has been awhile since I have been to there and would love to go again soon, although this time probably not with a small tent.
Guest Post By: Margie Miklas
Follow Margie on her blog at margieinitaly.wordpress.com