Guest Post By: Charlotte Schroeter
So you've decided to visit Cornwall, England for you holiday and want it to be action packed and full of adventure, so where do you go and what do you do?
Here are five places to visit as well as a place to eat and a find your perfect place to stay.
Atlantic Diving, Newquay
Newquay in a beautiful coastal town famed for its surfing. There are also marvellous scenic walks and beaches to enjoy whilst there.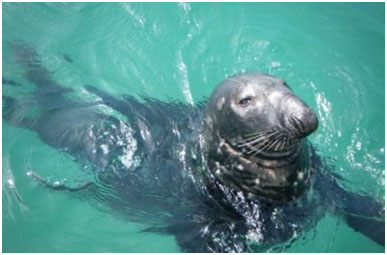 If water is your thing, then this attraction is just for you. There are sea safaris to Seal Cove which last two hours and leave from Newquay Harbour. As you cruise along the Cornish coastline, look out for dolphins, deals, basking sharks, sunfish, harbour porpoise and plenty of sea birds.You will be taught along the way by marine wildlife guides and may even spot crabbing boats hauling their catch.
If you are feeling brave, there is the opportunity to swim with basking sharks or cage dive with blue sharks. If you aren't a shark lover but want to go underwater, how about some snorkelling or diving. The diving can last half a day or a full day and there are over 300 wrecks to explore.
If you love to fish, there are fishing trips which last for two hours, half a day or a full day. You'll be able to catch fish under the expert tuition of skippers and you can keep the fish you catch to cook for your dinner.
This is open all year so there are plenty of chances to see the views and enjoy the activities.
The Extreme Academy, Watergate Bay
There are plenty of activities to enjoy here such as waveski, kite surfing, kite buggy, land boarding and traction kite lessons for the adrenaline junkies amongst you. You can try one or two sports or try them all with an 'Extreme Day'. There is two miles of sand and consistently good surf here so it is an exceptional environment for water and land sports in the great outdoors.
Lessons are tailored to suit you and your ability from beginners to experts and you can learn at a pace that suits you. You'll learn in small groups with the latest equipment and this is done all year round.
After all that exercise, you can recharge your energy levels in the Beach Hut. It serves snacks, lunches and dinners and is right next to the sand so provides a brilliant place to watch the sunset.
Caerhays Castle and Gardens, St Austell
The castle and gardens overlook Porthluney Cove on the south Cornish coast so you get sea views and as its set in 100 acres of beautiful woodland, you get a peaceful tranquil feel too.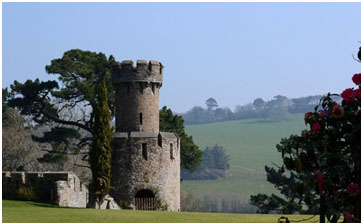 The Williams family live in the castle but you can take a guided tour to delve into outstanding English heritage. The family have resided in the castle for over 150 years and there was only one family there before them.
The gardens were just a deer park 150 years ago but are now a spring-tine wonderland for visitors and they are home to the national magnolia collection. For plant lovers, you can see daffodils, rhododendrons and camellias. If you enjoy walking, you can follow one of the four marked woodland trials
The gardens and castle are open to the public from February to May each year.
Eden Project, St Austell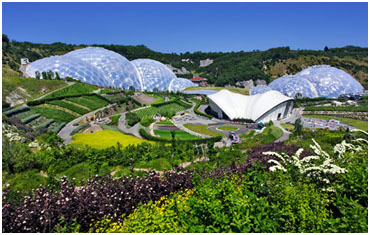 The Eden project is a global garden housed in tropical conditions and has even been dubbed the eighth wonder of the world so is well worth a visit if you are down in this part of the country.
It is fast-becoming a unique resource for education and knowledge towards a sustainable future but it is also a fun family day out. There are activity days, music concerts, gardening courses and the chance to find out where tea, rubber and sugar come from as you take a tour of the world from South Africa, California, the Mediterranean and back to Cornwall.
There are stunning garden displays all year round, sculptures and art, an ice rink in winter, local fairly traded food available in the restaurant and café as well as a rainforest lookout that takes you above the treetops. If you'd prefer to see it all from the ground, there's a free land train which is pulled by a tractor.
There's always so much going on so check the events calendar to make the most of your visit or you could event hold a conference or wedding there as it's open all year except Christmas.
The NewquayMeadery, Newquay
If you are feeling hungry or thirsty, get yourself to Newquay to The Meadery. They serve platters of hot savoury food and fine ales as well as catering for vegetarians and they have a varied children's menu.
It's a popular and lively venue that has been kitted out in medieval style furniture but has a modern day buzz about it. You'll see suits of armour, swords, mace and stocks and enjoy the candles which emphasise the medieval theme.
And of course whilst you're there you'll need somewhere to stay. www.holidayhomestoyou.co.uk provides a great service where you can browse a specific location to stay and see what type of properties are available or even better, you can request where you'd like to stay and they will find somewhere for you as holiday home owners contact you with places that meet your requirements.
Author Bio
This article was written by Charlotte Schroeter, a Media Studies Undergraduate living in Sussex. Follow her on Twitter @charlotte_a_s.