Guest Post: Ruth Elayne Kongaika
Our first year after arriving in Hawaii, we had the rare opportunity to travel to Moloka'i. It is a part of Hawaii that is undeveloped, and naturally beautiful. You can get a glimpse of Old Hawaii by traveling to this island. We flew to the island on a short jaunt from Oahu, and then rented a car so we could see all the sights. Most people are familiar with Father Damien, who was recently canonized in Rome for his work with the leprosy victims of Moloka'i.
On one end of the island of Moloka'i, we saw tropical rain forests and on the other, dry coastal sea cliffs that are amongst the highest in the world. It is truly breathtaking scenery. The people were very kind and welcoming to their island. We spent the evening with some of the locals, dancing and dining.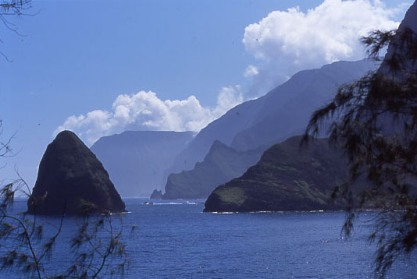 .We also explored the Kalaupapa National Historical Park in Kalawao. To visit this well preserved Kalaupapa National Historical Park, you must obtain a permit from the State Department of Health required by State law. You can obtain it directly or through Damien Tours, who will assist you in getting a permit. Damien Tours service provides daily airline transfers, access by boat, mule rides or ground hiking on the Pali Trail. No children under 16 are allowed access to Kalaupapa. There is a steep three and a half mile trail leading to the settlement. Only physically fit persons should attempt this challenging trail.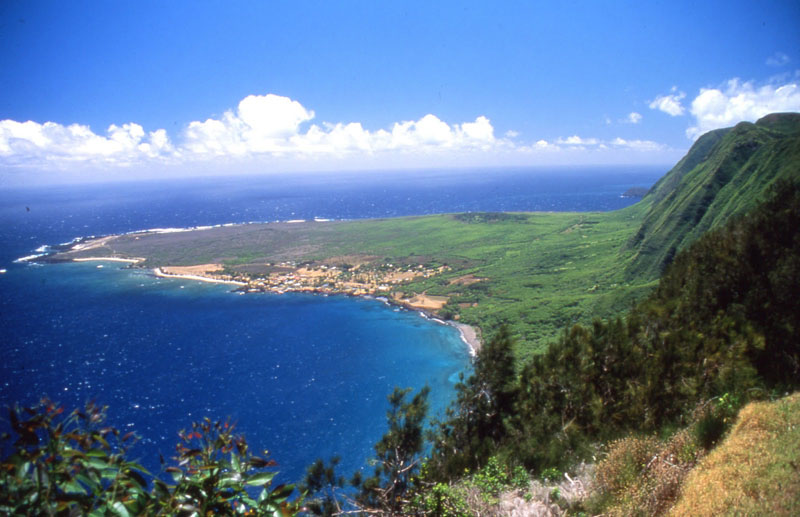 The Kalaupapa National Historical Park is located on an isolated peninsula on the island of Moloka'i in Hawaii. It has a rich archeological and woeful history which has been preserved since 1980. The early Kalaupapa Settlement was populated by victims of the dreaded disease, leprosy. Ignorance and fear of this condition, otherwise known as Hansen's disease, caused families to drop off victims so they would not spread this disfiguring illness. This was due to the fact that Hawaii was in crisis, and when their people were exposed, they had no immunity to the many diseases that were brought in by foreigners. Many native Hawaiians died during these years. At the peak, there were 1200 men, women and children exiled in this island prison community. The isolation law which was enacted in 1866, was only repealed as recently as 1969. So many people had been torn from their homes and forced to live in Kalaupapa.
The peninsula of Kalaupapa is fenced in on three sides by ocean, and the fourth by sea cliffs. It is on the north side of the island of Moloka'i. The US Coast guard owns and operates a light house there. The peninsula was formed by lava continually flowing from a volcano called Pu`u `Uao.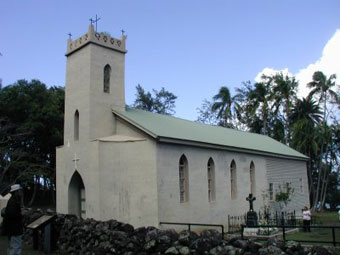 Father Damien gave his life in service to the people of Kalaupapa. He served in the settlement from 1873 until his death after contracting leprosy. Other religious orders also served in the area. Today, there are still victims of leprosy, or Hansen's disease living in Kalaupapa. They have chosen to live out their lives there. Modern drugs have rendered the disease non-infectious. If you decide to visit, be aware that there are no medical facilities available to you. We were able to visit the little chapel where Father Damien preached and also his grave.
You must arrange access to Kalaupapa through Damien Tours (http://www.fatherdamientours.com/).
You can also contact the Kalaupapa National Historical Park directly at 808-567-6802.
We enjoyed our trip to Moloka'i, and it was a time of meditation. It has a haunting history and mesmerizing landscape which is hard to forget.
Ruth Elayne Kongaika was raised in the mainland, USA, but has been living in the South Pacific for the past forty years. She enjoys trying to capture the beauty of the Polynesian islands through her photography, painting and writing. She has a blog which shares some of her art and favorite subjects at:
email: kongaikr@byuh.edu