Guest Post: Ruth Elayne Kongaika
If I need shopping therapy, I head out to Ala Moana nearby Waikiki. A trip to Oahu would not be complete without a day spent at Ala Moana Center. I always try to take my friends and family who visit us in Hawaii. It has the distinction of being the world's largest open-air shopping center, the largest mall in Hawaii and the fifteenth largest mall in the United States.
Ala Moana covers 2.1 million square feet and has four levels of shopping. I enjoy the mall not only for shopping, but it is a cultural mecca with dancing, singing and other entertainment on a daily basis. They host hula shows, art festivals, fashion shows, contests, competitions, musical productions and more at Centerstage in the Center court of Ala Moana. Many who have performed have gone on to be very successful in their careers.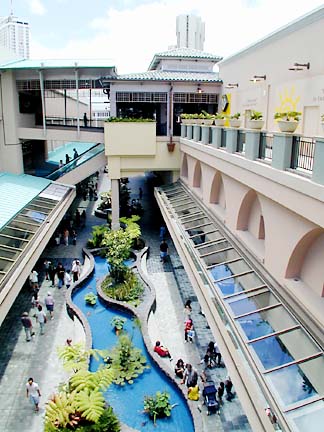 There are also over 70 eateries available from fine dining to quick take out. There is a food court so each member of the family can choose a different palate. I always enjoy exploring the nearly 300 world class shops. So much to explore and appreciate, even if just window shopping. One thing I really enjoy is the open-air style. You do not feel closed in since you can look up and see the sky throughout most of the mall. There are waterfalls, ponds with lily pads, koi and many places for you to rest and enjoy it all.
It was interesting to find out about the history of Ala Moana Center. Walter Dillingham purchased 50 acres of unwanted swampland in 1912 from Bishop Estates for $25,000. Actually Waikiki was mostly swampland as well into the 1800′s.
In 1948, plans were announced for the shopping complex. The Ground breaking ceremony occurred in 1955 and construction began in 1957. The world "ala" means street, and "moana" means ocean in the Hawaiian language. The Developers chose the name "Ala Moana" because it expressed the location of the center.
Hawaii became the 50th state eight days after Ala Moana Center opened Hawaii in August 1959.
When it first opened, it was the largest mall in the entire United States with 89 stores and 4,000 parking spaces. In 1966 Ala Moana doubled in size and added J.C. Penney and Liberty House. In 1987 a food court with 19 restaurants and 900 seats was added.
In 2005, the Ho'okipa Terrace was opened. It boasts ten incredible restaurants all in one place including Bubba Gump Shrimp Co., California Pizza Kitchen, Islands Fine Burgers & Drinks, Mai Tai Bar, Pearl, Romano's Macaroni Grill, Ruby Tuesday, Tanaka of Tokyo, and Tsukiji Fish Market and Restaurant.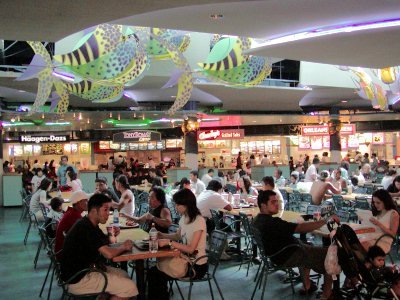 Since the mall is very close to Waikiki, it is convenient for visitors to the islands. A shuttle runs every ten minutes from Waikiki seven days a week. There is also plenty of parking for those who are driving, and it is within walking distance of the Ala Moana Beach Park.
Eleven of the original mall retailers from 1959 are still at Ala Moana Center today, although they may not be in the same location.
Sears
Longs
Foodland
Slipper House
Crack Seed Center
Reyn's
Shirokiya
Watumul's
Territorial Savings
U.S. Post Office
Dairy Queen
If you plan on visiting Ala Moana Mall, be sure to wear your walking shoes to enjoy the many levels of shopping, dining and entertainment. There is plenty to see and do for all ages and interests. I consider it a real treat when I can take a morning, afternoon or evening to spend in Honolulu at the Ala Moana Center.
Ruth Elayne Kongaika was raised in the mainland, USA, but has been living in the South Pacific for the past forty years. She enjoys trying to capture the beauty of the Polynesian islands through her photography, painting and writing. She has a blog which shares some of her art and favorite subjects at:
email: kongaikr@byuh.edu