Not exactly on the top ten list of places to go in Italy, Bologna is a great city to visit if you like architecture, young people and food. I spent a few days there last spring and totally enjoyed the vibe. A cosmopolitan city, Bologna is home to the oldest university in the world and the portico-covered sidewalks and streets are filled with young people. With a population of around 375,000, and an additional 90,000 university students, Bologna isn't really overrun with tourists.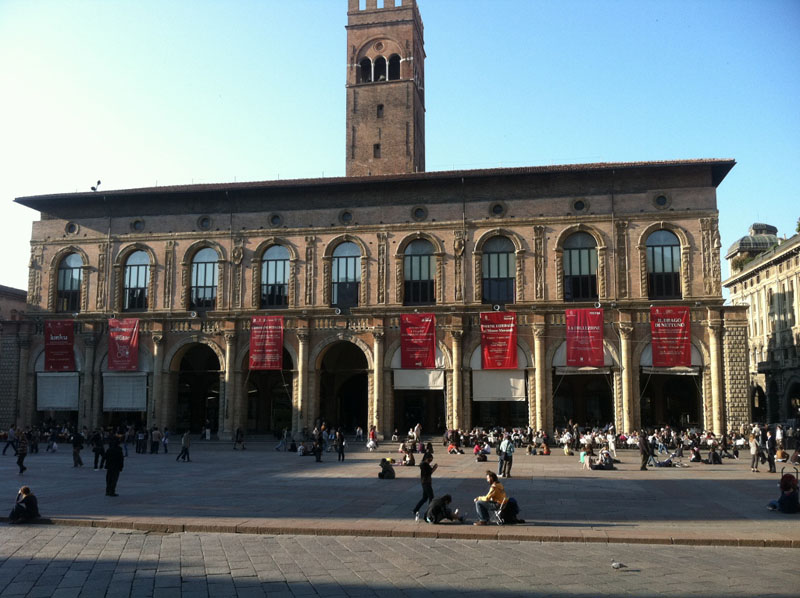 One of the things I found most interesting in Bologna is the number of porticoes or coverings over the sidewalks. Some of these are works of art in themselves with frescoes painted on the inside of these elaborate coverings. Found over almost every sidewalk, these porticoes make it unnecessary to worry about the need for an umbrella. They are beautiful and make for great photo ops.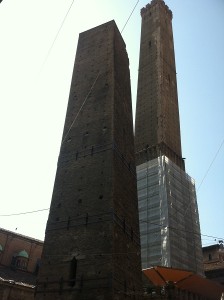 One of the most photographed monuments in Bologna is the Due Torri or "Two Towers." One was under construction while I was there so my photos are not as great as I would have liked but the height of these landmarks is awesome. Both are leaning due to unstable foundations and the smaller one leans much more than the taller tower. Torres degli Asinelli is the taller tower and measures 318 feet high. You can climb the 500 steps if you like to have a great view of the city at no charge except your own risk.
The shorter tower, Torres degli Garisenda is half the height of the taller tower and is 157 feet tall, and there is no option to climb this one.
The University of Bologna is home to 5000 foreign students, and the streets of Bologna can frequently be the venue for demonstrations or manifestazione. I enjoy the energy of the college students and found them to be very friendly and engaging. I actually stayed at a dorm of another university while visiting there and the accommodation was simple but adequate and very economical.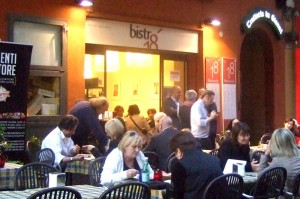 No one can go to Bologna without enjoying some of the regional specialties, since this is the gastronomic capital of the world. I am not a foodie so I was happy to sit outside and enjoy a glass of wine and some pizza during the aperitivo hour. Of course the ambience at an outside restaurant on a side street made it taste even better. You cannot go home without a stop at La Sorbetteria Castiglione, known for the best gelato anywhere. Naturally I had to check it out and it did not disappoint. I highly recommend a stay in this historic Italian city.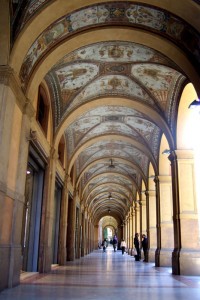 Guest Post By: Margie Miklas
Follow Margie on her blog at margieinitaly.wordpress.com