Aix-en-Provence is a beautiful city in the south of France and is often described as a miniature Paris without the museums. This city of 150,000 is casual, very artsy and has gorgeous tree-lined avenues. It's no wonder that artists like Picasso, Monet, Van Gogh, and Cezanne found inspiration here for their paintings. I was lucky enough to be able to spend part of a day here in Aix, as it is frequently called, on a recent Mediterranean cruise, and loved every minute of it.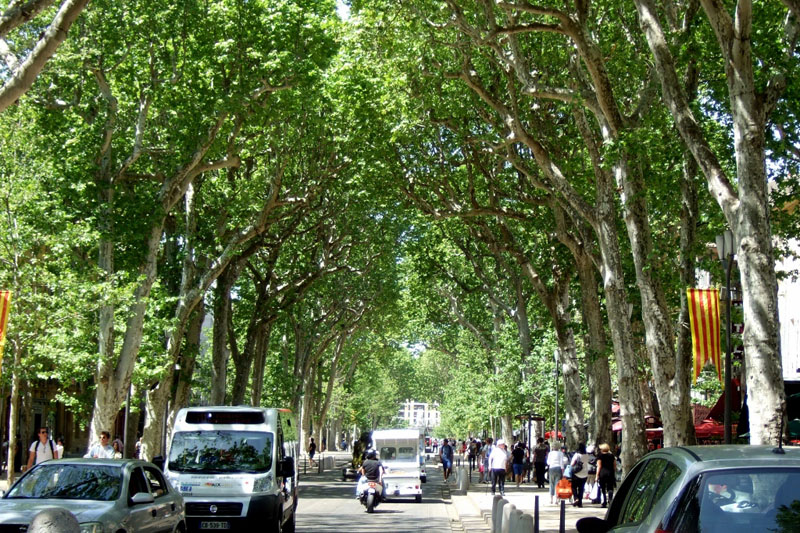 Le Cours Mirabeau
This is the main avenue in Aix (pronounced like "ex") and it is very wide and the first thing I noticed was how many trees lined both sides of the street. It was very pretty and I later found out that these trees are Plane trees, similar to what I know as sycamore trees.
On one side of the street were bookstores, art galleries, boutiques, cafes, and outdoor restaurants. On the opposite side are the old mansions dating back to the 16th, 17th and 18th centuries. People were milling about and the atmosphere was wonderful, making me feel like I could walk up and down this street all day.
Rotunda Fountain
Aix is known for its fountains and there are no less than 40 of them in the city. The largest is the Rotunda Fountain found at the beginning of Le Cours Mirabeau, in Place Général de Gaulle. This fountain was built in 1860 and is quite impressive with its three statues representing Agriculture, Justice and Fine Arts.
The fountain is a symbol of the city welcoming visitors here. At the end of the school term it has become a ritual for the university students to take a swim in the fountain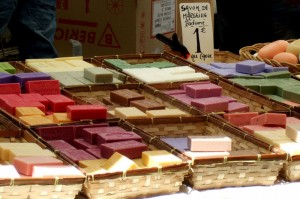 Markets
In Place de Hotel de Ville, there are the famous markets where you can buy things for a fraction of the cost. Open Tuesdays, Thursdays and Saturdays, the markets offer fresh fruits and vegetables, fresh flowers, clothing, soaps, and a little of everything. This is a huge market and the prices and selections are very reasonable. When I was here I found a real buy on some authentic French soaps and brought some back for gifts.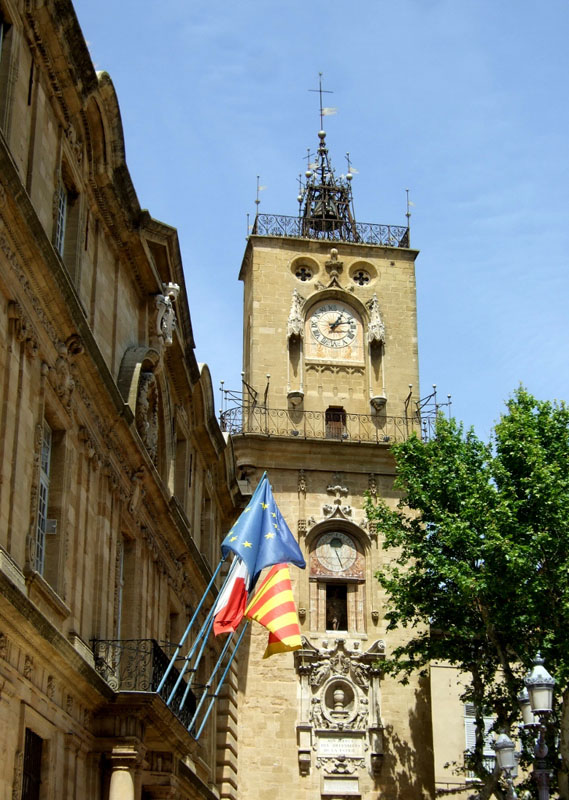 Clock Tower
Every town seems to have a clock tower and Aix is no exception. This 16th century monument is next to the town hall or Hotel de Ville in Place de Hotel de Ville. Formerly a belfry, the huge clock was an addition in the 17th century, and attracts attention for its wooden figures that symbolize the four seasons.
Paul Cezanne
Aix's favorite son, artist Paul Cezanne was born here, lived here, painted here and died here. There is a statue at the center of town in his honor. His studio still exists here and you can take a 30 minute tour inside. I didn't have a chance to see this, but would be interested to return and check it out.
I found the French people to be very friendly and I was surprised that some of them even spoke English. Aix is a great place to visit, as a day trip from the port of Marseilles. I highly recommend this lovely city in Provence.
Guest Post By: Margie Miklas
Follow Margie on her blog at margieinitaly.wordpress.com