St Lucia has become a very popular destination for cruise ships and the capital city of Castries is the main port where the cruise ships dock. Not far from there is the area of Soufriere, home to "the world's only drive through volcano," the giant twin volcanic pitons, and a magical rainforest with waterfalls.
An excursion to the area of Soufriere turned out to be the highlight of our Caribbean cruise, thanks to a very friendly and knowledgeable local guide who calls himself Yellowman. For a reasonable price which we negotiated near the port, Yellowman took five of us in his van on a personalized tour which lasted close to five hours.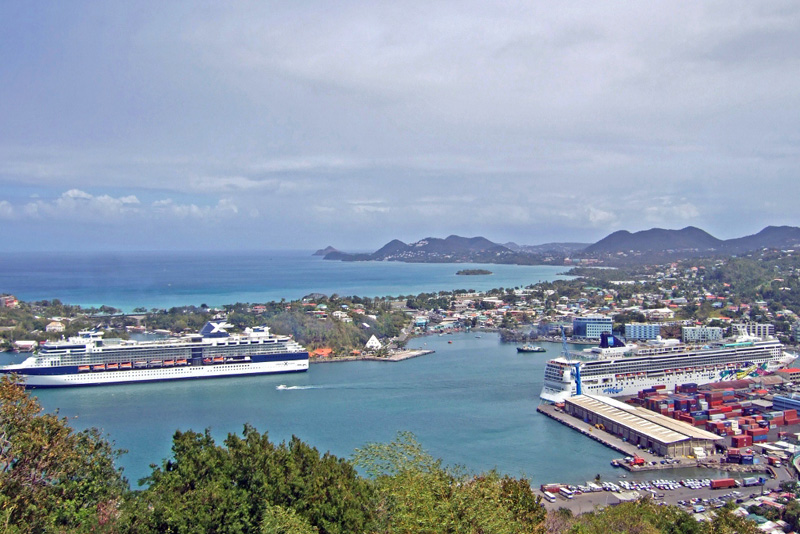 About St Lucia
St Lucia is part of the Lesser Antilles island chain and is not very big, measuring only 27 miles from north to south and 14 miles from east to west. The Soufriere area is located on the southwestern side of the island. The entire country only has a population of 162,000 and tourism is its main industry.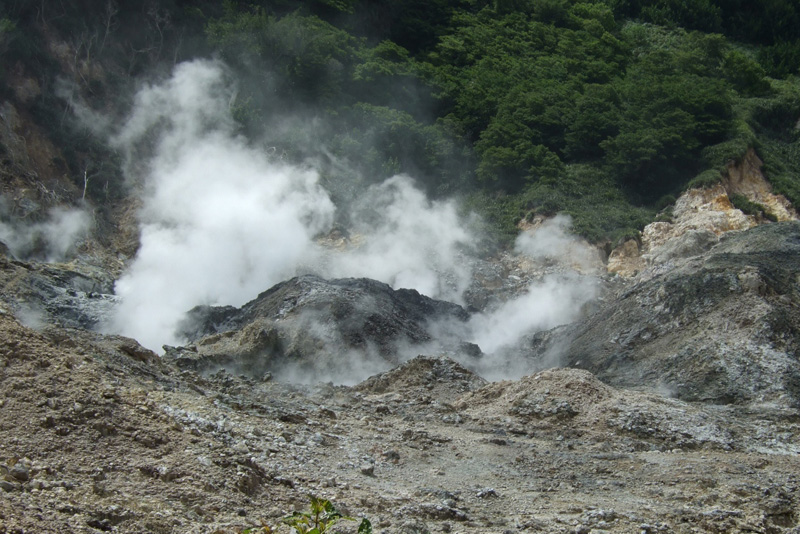 Drive-Through Volcano
We actually drove on a road right to the now dormant Qualibou volcano, and we kept driving right through the middle of this volcano. On both sides of the road we could see and smell the many sulfur fumaroles all around.
This area is also called Sulfur Springs because of the odor emitted by the gaseous sulfur fumes popping out of the rock. It was quite amazing, and reminded me of the section of Yellowstone National Park where the mineral spas emit sulfur like this.
Twin Pitons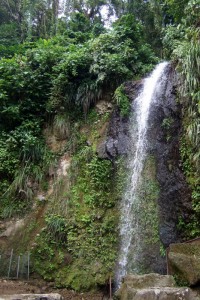 Named a UNESCO world Heritage site, the twin pitons are actually two volcanic mountains that rise up dramatically from the ocean. Petit Piton is the smaller one, measuring 739 meters, or 2461 feet high. Gros Piton is 786 meters, or 2619 feet high. These peaks can be seen from quite a distance away and naturally together, are one of the most photographed landmarks in St Lucia.
These mountains are not rocky but full of lush green vegetation. This area is also home to a rainforest, so it is easy to understand why everything here is so green. Yellowman even stopped at a banana plantation along the road so we could pose for pictures.
The actual town of Soufriere at the base of Petit Piton is a small fishing village, although at one time Soufriere was the capital of St Lucia, when the country was still under French rule.
Diamond Botanical Gardens
This is the rainforest known for its waterfalls and mineral spas. Yellowman told us that the water here supposedly has some medicinal properties and many people bathe in it regularly. In fact we saw someone bathing under one of the waterfalls. The entire area is very beautiful.
We also stopped where some of the locals were selling handmade jewelry along the road and these were apparently friends of our guide. The jewelry was beautiful and very inexpensive so I came home with a bracelet and necklace made from local coral shells.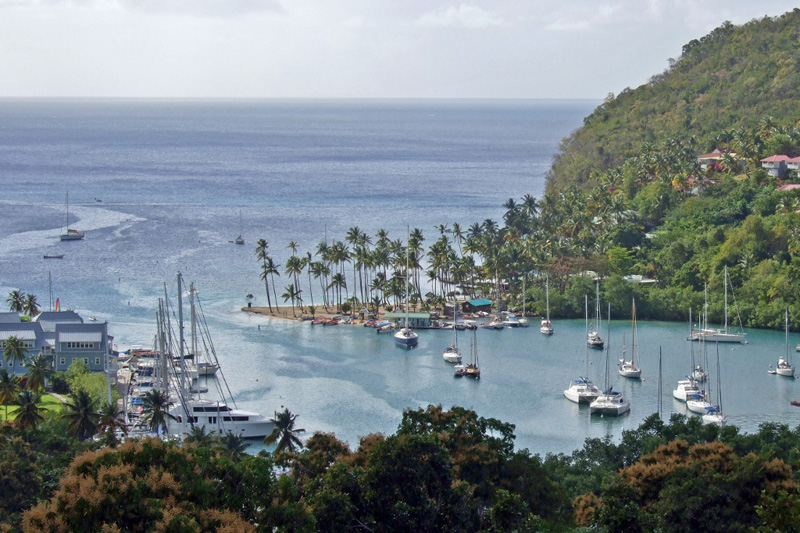 Marigot Bay
On the way back to port from Soufriere, Yellowman stopped so we could get a glimpse of the beautiful Marigot Bay, home to luxury yachts. It is a postcard photo opportunity for sure, and the famous author James Michener described it as "the most beautiful bay in the Caribbean." This was also the filming location for the original 1967 Doctor Doolittle movie starring Rex Harrison.
An Extra Bit of Information
One of the benefits of seeing an area with a local guide is learning something that you cannot read about on Google. Yellowman informed us that marijuana is very common here, and although it is not considered legal, no one enforces the laws regarding marijuana, and its usage is more or less tolerated.
If you are going to St Lucia and would like a great tour of the Soufriere area, ask for Yellowman on the dock. Everybody seems to know him, and I guarantee that you will not be disappointed.
Guest Post By: Margie Miklas
Follow Margie on her blog at margieinitaly.wordpress.com