Guest Post By: Margie Miklas
Courmayeur is a small Italian town in northern Italy at the foothills of Mont Blanc. A popular ski resort this alpine village near the Swiss and French borders is also a favorite of hikers and mountain climbers especially in the summer months.
I had never heard of Courmayeur, not being a skier or a hiker, but my Italian friend Angela suggested it as a place to visit, a little off the beaten path. With a population of less than 3000, Courmayeur in the summer is a perfect place to relax and enjoy the beauty of nature.
The homes and buildings do not look like the rest of Italy but instead resemble French chalets. Even the roof style is different with heavy slate roofs to accommodate the severe winters here. Many of the little shops as well as the hotels have French names here.
Actually Courmayeur reminds me of the popular American ski resorts of Aspen and Vail during the off season. Many of the shops were closed and there were few people here since June is not really the tourist season. The locals are very friendly and the restaurants are not crowded.
Courmayeur is one of the few towns in Italy that does not have a train station, so it is not that easy to reach without a car. Bus service from Aosta and Chamonix in nearby France is the main mode of transportation in and out of Courmayeur.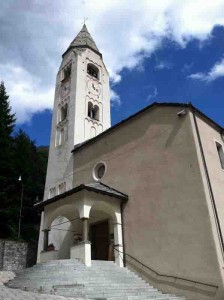 One of the landmarks here is the Church of Saint Pantaleon in the center of the town on via Roma. Its Romanesque style bell tower with the characteristic clock makes for a nice photo opportunity. Via Roma is also the main drag in town and where most of the shops are located. Many of these shops as you would expect carry ski and mountain clothing and gear.
I would have liked to have taken the funivia ride or Mont Blanc cable car but it was not open during my visit here. The season for this is from December through May. I understand that the views from the air are spectacular. Maybe next time.
Guest Post By: Margie Miklas
Follow Margie on her blog at margieinitaly.wordpress.com