Guest Post By: Margie Miklas
Pescallo is a small quiet village on Lake Como and is located less than a mile from the larger resort town of Bellagio. Having read about this place as being a little fishing community away from the tourist area, I was interested to see it for myself. On my recent visit to Lake Como and Bellagio I started exploring and found that it was only short walk and I was in Pescallo.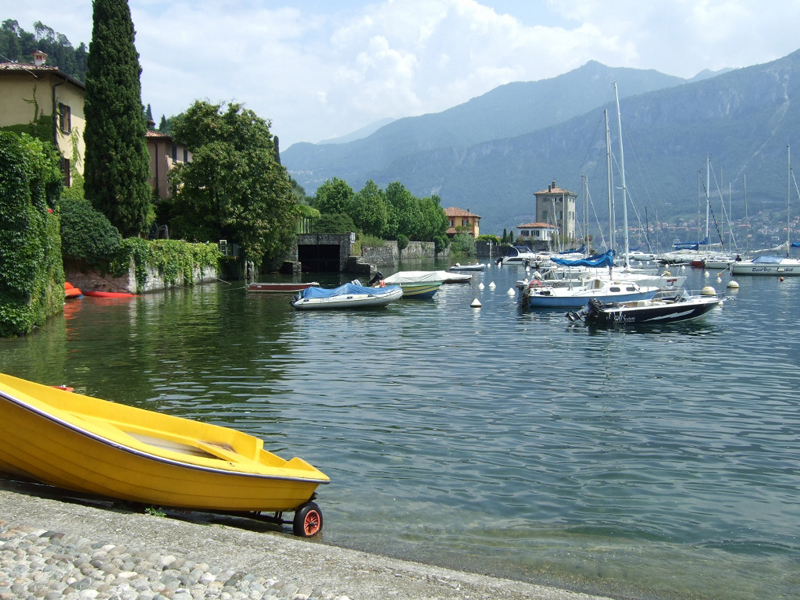 The walk to Pescallo may be short but it is not that simple. For anyone who has difficulty navigating steps or uneven walkways, this is not for you. Although Bellagio is at the water's edge, the town is built on a hill. There are various staircases rather than streets because of the steep topography, and the names of these walkways reflect that they are staircases, e.g. Salita Monastero. The term Italian word salita means climb. The path to Pescallo cannot be reached on foot except by walking uphill first in Bellagio.
The main road in Bellagio at the top of the hill is Via Giuseppe Garibaldi and eventually leads to the town hall or municipio. Just across from that town hall is a paved footpath that goes off to the left with a small sign indicating Salita Cappuccini and this goes towards Pescallo. The walk down is less than ten minutes away and consists of part path and part staircase. There are more steps than you think possible, and after turning a corner, there is another set of steps, and another and another. They are quite steep in places and this continues for awhile. Eventually Pescallo is just ahead after turning right onto Via E. Sfrondrati
Pescallo looks like a postcard and is truly an enchanting and lovely little fishing community. Only a few people are around and there are ducks in the water and boats pulled up on the shore. Reminiscent of a scene from a movie, a couple sits on a bench in the quiet solitude of Pescallo.
One of the two hotels in Pescallo is the family operated La Pergola and its covered outdoor restaurant sits right on the water. This 14 th century restored convent is the perfect location for a drink or a meal while enjoying il dolce far niente, or the sweetness of doing nothing.
For a little respite from the crowds and activity of beautiful Bellagio, take the walk to Pescallo and don't forget to bring your camera.
Guest Post By: Margie Miklas