Guest Post By: Margie Miklas
The beautiful Sicilian resort city of Taormina is perched high on a hill affording spectacular views of the Ionian Sea. Since its beaches are at sea level Taormina operates its cable car system, or funivia, to transport you there and back.
I never rode a cable car until I took the ride in Taormina and the two minute trip was a great way to enjoy the panoramic vistas. This aerial tram is a very efficient way to travel between the historic center of Taormina and the beautiful beaches below.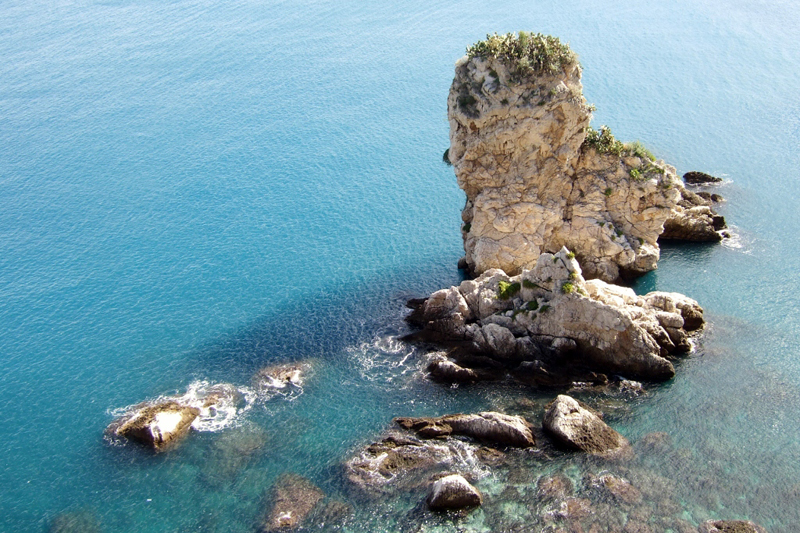 Taormina's two beaches are the pebble beach of Mazzaro just below Taormina. The southernmost area of this beach is usually the most crowded especially during the high tourist season from May to October.
The other beach is on the small island called Isola Bella which means "beautiful island." Isola Bella is a tiny island just offshore and it has its own beach which can be accessed at low tide by a narrow strip of sand connected to the mainland. Like most beaches in Italy this is a rocky beach but nevertheless attractive to sunbathers.
I have never been to this beach but when I stayed at the resort of CapoTaormina which is at the tip of a rocky point below Taormina, I was mesmerized by the views of Isolabella and the beautiful blues and greens of the sea here.
On Isola Bella there is the Nike Dive Center which offers PADI dive courses and is conveniently located within a few minute boat ride from the dive sites. Caves, canyons and sunken Roman ship are just a few of the intriguing diving adventures offered.
The funivia consists of two sets of four cable cars traveling in both directions. As four are moving up toward the center of Taormina, the other four are descending at the same time. Up to 680 people can be transported every hour for the cost of seven euros round trip.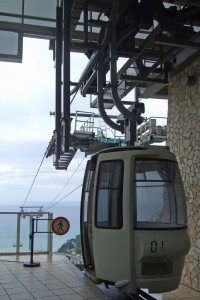 Each cable car holds 12 people and the system operates every day of the year. Cars leave every 15 minutes and the operating hours are from 8 am to 1 am Tuesdays through Sundays and from 9 am to 1 am on Mondays. Approximately 850,000 people a year use this cable car system in Taormina.
The summer months are very busy in this resort city and the traffic can be at a standstill at times. The cable car is a welcome option to reach the center of the city rather than driving and trying to find a parking spot.
Because of the cable car system staying in Taormina without a car is very doable as the majority of hotels are in the historic center of Taormina and the best way to see things is on foot. The cable car will transport you to the beaches and back plus provide one of the best views along this coastline.
Guest Post By: Margie Miklas