Guest Post By: Margie Miklas
No matter how many times I have been to Rome, I find myself going back to the Trevi Fountain. Maybe it's because of the tradition that says if you throw a coin into the fountain you are guaranteed to return to Rome. Whether that's it or not the Trevi Fountain is one of those places that feel different every time depending on the time of day and the crowds of people.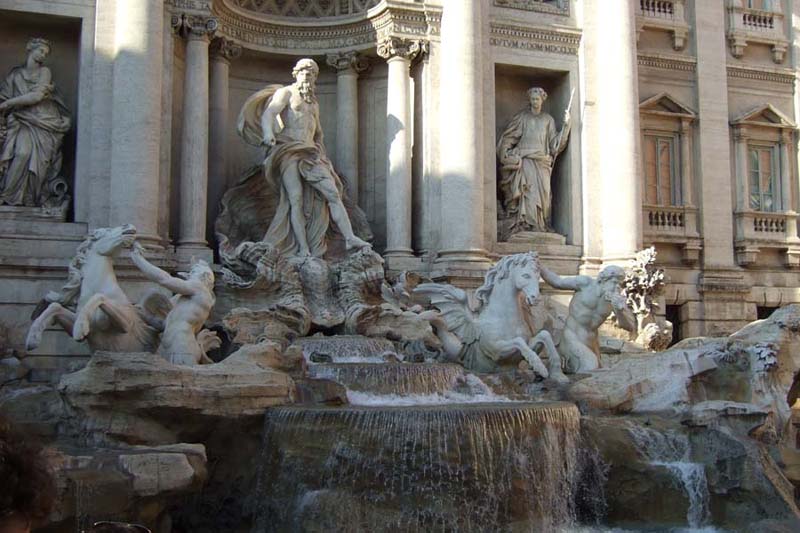 Not like other typical circular fountains in piazzas, Trevi Fountain is a true work of art and considered to be the most beautiful fountain throughout the world. It is no wonder that it attracts millions of visitors every year and has the distinction of being the most photographed fountain in Rome.
Always crowded the Trevi Fountain is an amazing place. For me there was a feeling of energy, a vibe that went along with being there and hearing the sound of the water cascading downward and feeling the enthusiasm of the crowd. The art sculptures are so awesome particularly since they were built onto the back portion of the ancient Palazzo Poli, making the entire area seem larger and more grandiose.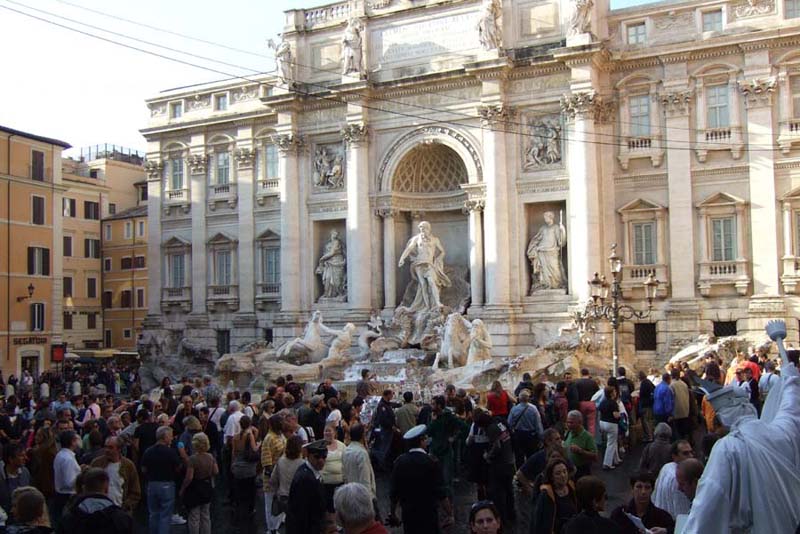 Trevi Fountain is also called Fontana di Trevi (in Italian) and the name is derived from the Latin word trivium which means the crossing of three streets. Some also believe the Italian origin is tre vie, meaning three roads. Either way Trevi Fountain is situated where three roads meet, Via De' Crocicchi, Via Poli and Via Delle Muratte.
Completed in 1762 the Trevi Fountain took 30 years to construct and is Rome's largest fountain, measuring 65 feet across and standing 85 feet high. At night this Baroque fountain is illuminated adding to its magnificence. Featured in the 1954 film "Three Coins in the Fountain" as well as the award-winning Federico Fellini 1960 film, "La Dolce Vita," the Trevi Fountain has become one of the most famous landmarks in Rome.
It is estimated that the coins tossed into the fountain add up to anywhere from 3000 to 12000 euros a day. I like to believe the stories that say the coins are collected every night and given to charity. Recently however there have been stories in Italian newspapers reporting thieves making off with the coins while police watched.
Situated in the center of the historic district of Rome, close to the Spanish Steps, Trevi Fountain is an easy walk from many of Rome's popular attractions. Don't miss this amazing experience during your next trip to the Eternal City.
Guest Post By: Margie Miklas