Roses, Spain, is one of the cities that can be visited on a day trip from Barcelona. It is on the coast of the Gulf of Roses in the province of Girona in northeastern Catalonia. The city is about 99 miles north of Barcelona. Driving from Barcelona to Roses takes approximately two hours. Visitors can also reach Roses by taking a bus or train from Barcelona. Buses from Barcelona go directly to Roses. This trip takes two hours and 15 minutes. A train trip from Barcelona to Figueres takes about two hours. Figueres is about 14 miles from Roses. A bus ride from Figueres to Roses takes about 30 minutes.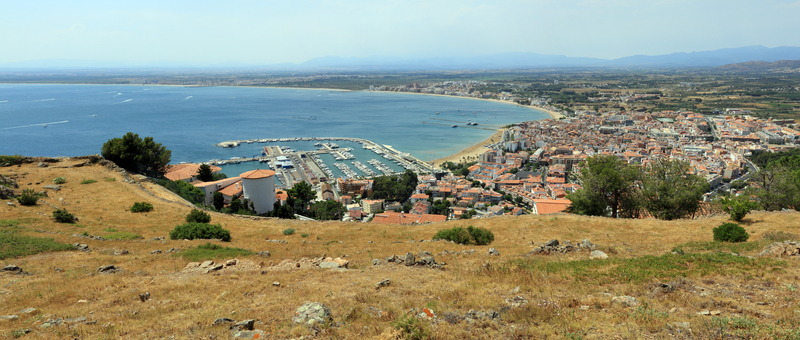 Places to see in Roses include the beach, nature reserves and historic sites. Visitors can enjoy Spanish cuisine in the city's restaurants.
There are several things to do on the beaches of Roses. Visitors can dive, snorkel, swim and sunbathe. Some of the beaches can only be reached by boat or on foot.
A trip on the Roses Express train will take visitors past the beaches and the Parc Natural Cap de Creus. This nature reserve can be reached by car from Roses. The reserve has places for walking, scuba diving and bird watching.
The Parc Natural dels Aiguamolls de l'Emporda is next to the Gulf of Roses. This nature reserve has cane fields, marshes, lakes and dunes. There are places to walk and bike in the reserve. Visitors can see storks and otters.
Visitors to Roses can see dolmens that are 5,000 years old. The Llit de la Generala dolmen was erected in 3,200 B.C.
The Citadel in Roses was built in the 16th century. This military fortification encloses ruins from the ancient town of Rhode. Rhode was built in the eighth century B.C. Displays in the Citadel Museum focus on the history of the Roses area. There are exhibits from Roman times and the Middle Ages.
The ruins of Trinity Castle are about two miles southeast of Roses. The castle was built in 1544. It stands on Poncella Point above the Roses lighthouse. The lighthouse dates back to 1864.
Visitors who have worked up an appetite sightseeing can dine on grilled clams or spicy mussels at Loramar. Customers at Sodemar can look at the bay while they eat duck salad, octopus ceviche or Iberian ham. The Restaurant Els Brancs at the Hotel Vistabella serves calf sweetbreads and pigeon.