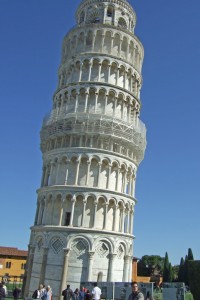 Guest Post By: Margie Miklas
When I thought about visiting Pisa the first thing that came to mind was the Leaning Tower of Pisa which has been photographed, painted and drawn more times than you can imagine. There is much more to Pisa than the Leaning Tower, or Torre di Pisa, but if you only have an afternoon in Pisa, then you might consider climbing this landmark tower.
Also called the Campanile, the Leaning Tower of Pisa is the bell tower of the Cathedral of Pisa. Torre di Pisa was closed for a period of time due to structural instability but after renovations the tower re-opened a couple years ago and there are strict requirements to climb the 294 plus steps to its top. It still leans at a five degree angle, making it veer 15 feet from its vertical axis.
When I visited Pisa I had not planned on climbing the tower, although my travel companion wanted to do it. Taking advice from guidebooks, I bought tickets in advance and it was advice well heeded, as the other option was to stand in line and hope to get a time for that day. In the summer the tickets frequently sell out and you are simply out of luck. The tickets can be purchased from a website, www.opapisa.it in advance for 17 euros, 2 euros more than the price you pay if you wait in line.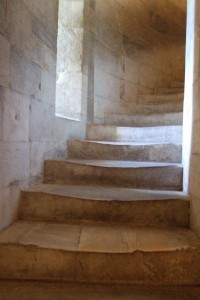 When it was the appointed time to climb the tower, my friend changed her mind and I was on my own. I had not anticipated the degree of strictness that is adhered to with regard to the appointment time. I was five minutes late and almost was not allowed to go.
To preserve the structure, the authorities allow only 30 people to ascend the tower every 30 minutes. Since it takes approximately 10 minutes to ascend, and 10 to descend, this allows for a maximum of 10 minutes at the top. There are guides who enforce this, so be prepared with your camera to capture the awesome views without too much delay.
The other thing to know is that you are expected to pick up your tickets 30 minutes prior to your scheduled appointment time. Again if you are late be prepared to forfeit your time. The strict security was another surprise for me in that it was akin to the security in a bank when you access a safe deposit box. Any bags you have get locked in a locker as you are prohibited from bringing them on the climb.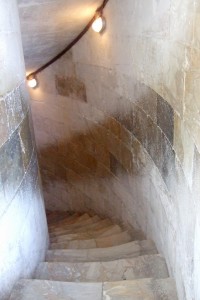 This is a word of warning regarding the actual climb based on personal experience. The steps are very steep and also slippery and you only have the walls to hold onto as no hand railings exist. Some of the steps are actually concave and uneven, so it if balance is an issue, climbing the Leaning Tower of Pisa is not a good idea. The spiraling staircase is extremely narrow and there is no room to turn around and go back down if you change your mind midway up the climb.
The authorities do not allow any children under the age of eight to climb the tower and for those aged 8 to 12, they must actually hold hands with an adult who is with them. Even teens from 12-18 must have an adult with them for this climb.
The experience is one I would never trade as the views from the top were nothing short of spectacular!
Guest Post By: Margie Miklas