Berlin, historical capital and Germany's largest city has many options to keep a traveler busy. While the Brandenburg Gate, Berlin Wall and numerous museums are must see stops when visiting the city, visitors that take a extended stay in one of the many Berlin apartments or hotels around the city will find that Berlin is a great base for day trips to other parts of Germany.
If you are interested in going on some day-trips out of Berlin, but are wondering where to go, then check out the following for some ideas. With the following medley of choices the hard part is choosing which one to try.
1. Spreewald Forest – The Spreewald is approximately 100 km outside of Berlin. A UNESCO Biosphere Reserve, it is made up of over 200 little channels, pine forests, alder forests and grasslands. Visitors can explore the Spreewald with punts which are flat-bottom boats. Other ways to see this reserve include bicycling and by hot air balloons. End the day with a trip to the village of Lehde for a walk through the Lehde Pickle Museum.
2. Frankfurt-an-der-Oder – Located 100 km away, in Brandenburg, this town is situated on River Oder and boasts some impressive architecture. Visit the Friedenskirche (1226), the Peace Church, for a look at Gothic architecture at its most impressive. The post office and town hall are two more examples of the Gothic period. On the other side of the River Oder is Słubice, a town in Poland that is easy to put into your day trip.
3. Dresden – Just 2 hours from Berlin is the lovely city of Dresden. Situated along the River Elbe, Dresden is a must for architectural buffs. Buildings such as the Dresden Castle which has Baroque, Classical and Renaissance influences, the Zwinger Palace with its famous moat and the Hofkirche, a Roman Catholic Church, which is one of Dresden's landmarks are an architectural enthusiasts dream.
4. Leipzig – Leipzig is also just 2 hours from Berlin. Germany's most famous zoo, the Leipzig Zoo, is located here. Visit Pongoland, a large enclosure for primates such as gorillas and orangutans as well as the Kiwara Savannah with giraffes, zebras and flamingos. Other attractions include the Bach Museum and attending a Bar Crawl in the Drallewatsch district.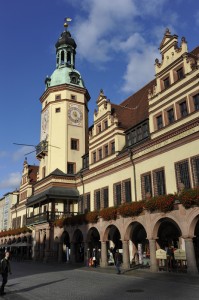 5. Wandlitz – Wandlitz is approximately 25 km outside of Berlin and boasts a large lake that visitors can walk around. It is a 3 hour walk with charming scenes of the lake as well as some lovely homes. The Lido, on the shores of the lake, is a great place to experience windsurfing, go for a swim on the public beach or go horseback riding. Walking through the town is also a pleasurable experience because of the charming architecture of buildings such as the Lanke Palace and the Church of Schönerlinde.
This is just a short list of the many places to see within easy reach for a day trip from Berlin. Taking a extended stay in one of the fine hotels or apartments in Berlin, visitors will find Germanys largest city offers numerous options inside and outside of the city.