Looking for a easy day trip from Venice or Verona? Bassano del Grappa is easily reached by train, bus and air. Bassano del Grappa is an hour away from Padua by train and two hour's distance from Verona and Venice. It is possible to travel by bus from Bassano del Grappa to other towns in Veneto. The nearest airports are Venice and Vernona, with a smaller airport in Treviso.
Bassano del Grappa is a town from the medieval era along the Brenta River. It is in the Veneto area of Italy in the northern Vicenza province. The town's name comes from Monte Grappa as the town is located where the plains touch the hills near the Alps.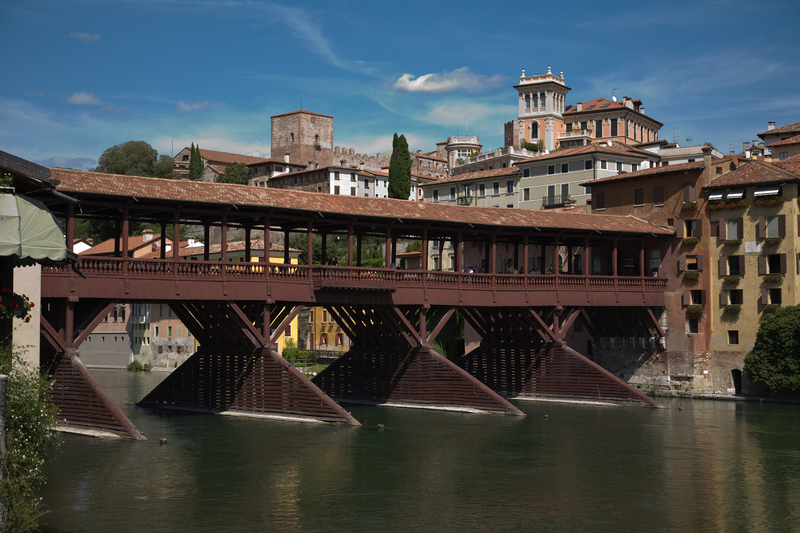 Bassano del Grappa is identified with pottery, Italian brandy, the Alpini covered wooden bridge, and the military events of Monte Grappa. The town center is small with buildings from the medieval era and designed with Alpine appearance. It is also a starting point for traveling around to view the castles and villas of the Veneto area.
Bassano del Grappa has many attractions to see and activities for participation. The Alpini Bridge, a main attraction of the town, was constructed in the 1500s though this is not the original wooden bridge. After the bridge was demolished a number of times, the existing bridge was reconstructed in the original design after World War II. The bridge has two arches dating from the 16th century. Visitors can view the town from the bridge. The Museum of the Alpini and the Nardini Tavern are on the other side of the river.
The town has three squares, Piazza Garibaldi, Piazza Libertia, and Piazzotto Montevecchi. All three are filled with shopping arcades, fashionable shops and trendy restaurants and are joined with each other and busy both in the day and in evening.
Exhibits display the town's history. The Civil Museum displays archaeological relics and arts from the 1800s. The Sturm Palace, built in the 18th century, contains frescoes and pottery. The Municipal and Astronomical Clock from the 1700s is still running today.
Visitors can view the town and valley from the street of Viale dei Martiri on the perimeter of the town. The street is dedicated to the partisans murdered by the Nazis who hung them on the trees during the war. Their pictures remain on the trees.
The churches of Bassano del Grappa date from the 12th century to the 18th century and include various styles of architecture. Besides the churches, some of the other historic buildings are the Pretorio, Agostinelli, and Bonaguro Palaces.
The Grappa Distilleries and tasting are popular spots where visitors can taste grappa or the Italian brandy. Bissano del Grappa hosts a variety of entertainment and festivals. The Opera Estate Festival hosts arts and music programs in the summer. The grappa distilleries conduct the Open Distillery days at the end of August and October.
The city presents a market in October through December.