Almost 70 miles outside of Madrid, just over an hour drive, is the ancient and historic city of Avila. The city is unique because of its remarkable collections of churches, medieval city walls, and its rich history.
The City Wall of Old Avila (11th Century)
Centuries ago Avila was a flourishing medieval town that was protected and fortified by a massive stone wall surrounding the town. The well preserved wall includes 80 circular towers and nine gates with a perimeter of 2,516 meters (2,751 yards). When the sun goes down, this medieval marvel of architecture is spectacularly illuminated and becomes the centerpiece of Avila. The City Wall of Old Avila is a UNESCO World Heritage Site.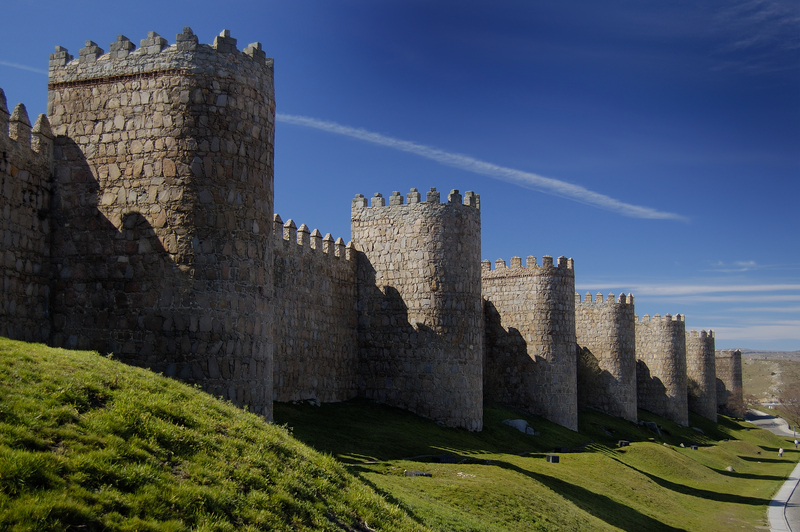 The Cathedral of Avila (10th – 14th Century)
This remarkable structure that is part Cathedral and part fortress has a deep history. The Cathedral of Avila is the oldest known Gothic Cathedral in Spain and is a popular tourist attraction. The apse (circular section that contains the altar) of the Cathedral is built into the wall of Avila that acts as the fortress to the city. The magnificent stained glass windows date back to the 16th century and illuminate the alabaster tomb of El tostado, the Vasco de la Zarza altarpiece, and original paintings by artists Berruguete and Juan de Dorgona.
Convents
The city of Avila is home to several convents including the Convent of Santo Thomas, the Convent of Las Madres and the Convent of Santa Teresa. Teresa was born into nobility but driven by a religious calling that led her into a life as a religious reformer and founder of a collection of Convents. The most important convent in Avila is the 17th century Convent of St. Teresa, the patron saint of Spain, is home to the Order of Carmelitas Descalzos (Barefoot Carmelites) and was built between 1629 and 1636 and is said to cast a shadow over the birthplace of Saint Teresa. The architecture of the convent is Baroque and the façade is adorned with a large statue of Saint Teresa. Because the Convent of Santa Teresa is an active convent, much of it is not open to the public.
The Four Posts
Just a 15 minutes walk from the Wall of Avila is the shrine of the Four Posts and is said to be the spot where Saint Teresa was stopped by a member of her family from running away from home to seek martyrdom in battle with the Moors. The shrine sits atop a hill overlooking the Walled City of Old Avila. Inside the shrine is a cross surrounded by a four poster canopy. The Four Posts shrine is one of the best locations to enjoy a panoramic view of Avila and the wall.